Otto Warmbier: A timeline of the American student's capture and release in North Korea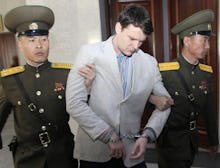 On Monday, the family of Otto Warmbier announced the 22-year-old college student died just days after being freed from a North Korean prison.
Warmbier, a University of Virginia student, was serving a 15-year prison sentence in North Korea for allegedly attempting to steal a propaganda poster. Read on for more about Warmbier's time in the country.
January 2, 2016
Warmbier, then just 21 years old, was arrested at the airport on the last day of a five-day organized tour of North Korea. His alleged crime was attempting to steal a propaganda poster from North Korea, ABC reported. Warmbier apparently attempted to steal the poster in return for a used car back home and to impress the secret group known as the Z Society at the University of Virginia, ABC reported.
February 29, 2016
Warmbier makes a televised "confession." During the event Warmbier said, "I entirely beg you and the government of the DPR Korea for your forgiveness. Please, I've made the worst mistake of my life, but, please, act to save me. Please. Think of my family." It remains unclear if Warmbier's words were his own or were coerced by the North Korean government.
March 2016
The detained student is sentenced to 15 years of hard labor after a one hour trial. Hours after Warmbier's sentencing the White House announced new sanctions against North Korea including sanctions on shipping, mining, energy and financial service sectors, the New York Times reported. In a statement the Obama administration said, "These actions are consistent with our longstanding commitment to apply sustained pressure on the North Korean regime."
February 2017
As ABC reported, secretary of state Rex Tillerson briefed President Donald Trump on Warmbier and other prisoners still held in North Korea. The president instructed Tillerson to ensure the release of all prisoners, NBC reported.
June 6, 2017
In early June, State Department Special Representative Joseph Yun met with North Korean UN Mission Ambassador Pak in New York City. Yun learned that Warmbier's medical condition had deteriorated, according to ABC. North Korea claimed the now 22-year-old had contracted botulism and was in a coma after taking a sleeping pill, Mic reported.
June 13, 2017
Warmbier was released from North Korean prison and is flown back to the United States. He arrived in Cincinnati, Ohio, and was immediately transported by ambulance to the University of Cincinnati Medical Center, ABC reported. Dr. Daniel Kanter, a professor of neurology and director of the hospital's Neurocritical Care Program, described Warmbier's condition to reporters as "unresponsive wakefulness." He added, "This pattern of brain injury is usually seen as result of cardiopulmonary arrest where the blood supply to brain is inadequate for a period of time resulting in the death of brain tissue."
June 19, 2017
Warmbier's family announced his passing. In a statement the family stated, "Unfortunately, the awful torturous mistreatment our son received at the hands of the North Koreans ensured that no other outcome was possible beyond the sad one we experienced today."