Vice President Pence got a puppy. Here's why Trump should too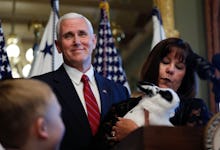 Marlon Bundo, Vice President Mike Pence's bunny, has a few new furry siblings to compete with.
On Sunday, second lady Karen Pence announced on Twitter that the family surprised Pence on father's day with a new Australian shepherd puppy named Harley.
Karen Pence also announced the arrival of a new kitten named Hazel. Hazel was adopted just nine days after the Pence's shared the news that their beloved cat Oreo had died.
According to CNN, Oreo was 13 years old when he passed and was especially loved by the Pence's youngest daughter, Audrey.
The two new fur-balls join Marlon and the Pence's other cat Pickles at the Naval Observatory grounds, where the vice president lives.
While without a doubt loved as the personal pets of the Pence family, Marlon, Pickles, Hazel and Harley have a unique role to fill in the administration as Donald Trump is the first president in almost 130 years to not have a dog, or any pet for that matter, while in office.
As Mic previously reported, Trump came very close to becoming the proud dog father to Patton, a golden doodle puppy, that was being fostered by Trump's friend Lois Pope in Palm Beach, Florida. However, just before Pope was expected to hand over the pup she got cold feet and said she had fallen in love with Patton and decided to keep him, the Independent reported.
But Trump may want to find a replacement for Patton fast. As the Presidential Pet Museum explained, forgoing a pet could spell doom for his presidency.
"Most presidents had several dogs, but almost all had at least one," the museum explained in a post. "And the presidents that did not have dogs in residence? Well, their terms didn't always go smoothly. So the real question becomes: Is it lucky to have a dog in the White House?"
Take James Madison, the fourth president of the United States. As the museum noted, though, it's probably just a coincidence he didn't have dogs, Madison is the only president to have two vice presidents die while in office.
Or how about William Henry Harrison, the ninth president of the United States. Harrison, the museum noted, had a goat and a cow named Sukey, but no dog, which is probably why he only served one month as president. (That, or because he contracted enteric fever and died just 30 days into his term.)
But, rather than just to protect him from bad luck, Trump getting a dog might be good for the whole of humanity. In April, Barbox released a survey showing 93% of respondents said their dog made them a better person in at least one way. Moreover, about half of dog parents said their pet had made them more patient, 52% said their dog made them more responsible and 47% said their pooch made them affectionate.