There are still 3 American prisoners in North Korea. Here's what to know about why they're there.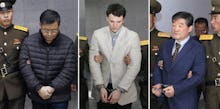 The death of former North Korea detainee Otto Warmbier has upped the ante for foreign affairs officials working to secure release of several other Americans still imprisoned in the hostile, autocratic nation.
U.S. Secretary of State Rex Tillerson on Monday said North Korea is directly responsible for Warmbier's death.
"We hold North Korea accountable for Otto Warmbier's unjust imprisonment, and demand the release of three other Americans who have been illegally detained," Tillerson wrote in a press release.
Warmbier was returned to the U.S. in a coma on June 13 after spending more than 17 months in a North Korean prison.
Intelligence reports indicate the 22-year-old University of Virginia student was severely beaten during his detention for attempting to take home a souvenir propaganda poster from the hotel in which he was vacationing in January of 2016.
"He was so brutally treated for so long," Warmbier's father, Fred Warmbier, told the media Monday. "There's no excuse for the way the North Koreans treated our son."
Here's a breakdown on the three other Americans still locked up in North Korea:
Kim Dong-chul
"I'm asking the U.S. or South Korean government to rescue me," Kim Dong-chul told CNN during an exclusive North Korean prison interview in January of 2016.
The 62-year-old South-Korean American businessman was arrested in October of 2015 and charged with espionage on behalf of South Korea, according to the New York Times. He was sentenced to 10 years of hard labor for his alleged crimes.
CNN reported Kim's wife and daughter lived in China at the time of his arrest, but their U.S. home is in Fairfax, Virginia.
Kim told a North Korean court in March of 2016 that he stole military secrets from the country to give to South Korea.
Tony Kim
Kim, also known as Kim Sang-duk, is a Korean-American college professor at North Korea's Pyongyang University of Science and Technology, or PUST, who also taught at Yanbian University of Science and Technology in China.
BBC and Reuters reports indicate Kim was involved in multiple relief programs and was leaving the country on April 22 when he was arrested at Pyongyang International Airport.
North Korea's state-sponsored Korean Central News Agency on May 3 announced Kim had been charged with "hostile criminal acts with an aim to subvert the country."
"[Mr Kim] had been involved with some other activities outside PUST such as helping an orphanage," PUST chancellor Chan-mo Park, told Reuters in April. "I sincerely hope and pray that he will be released soon."
Kim Hak-song
Hak-song is another PUST professor who worked in agricultural development at the university. Christian News Journal reported that Hak-song is a self-described Christian missionary.
He was arrested on May 6 for suspected hostile acts against the North Korean regime.