Best jobs for high pay and low stress: These 10 chill gigs earn above-average salaries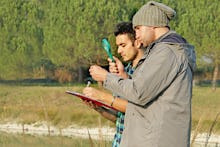 Workplace stress doesn't just hit you on the job — it can also have a negative effect on health and happiness. In fact, burnout and high blood pressure are a few outcomes of being too stressed at work, which may also increase your risk of heart disease or depression, per the American Psychological Association.
"Unfortunately stress at work happens more often than not," Vicki Salemi, career expert at Monster said to Mic by phone. "And when you are stressed at work it impacts everything else in your life such as not sleeping or gaining weight because you are eating more sugar during the day."
That's especially true if you've committed to a tough career that pays decently well to make up for how stressful it is — an unfortunate combination that might make you feel trapped. Now, to be fair, even though some jobs are considered to be "low stress," Salemi said, you still can't always point to one profession over another as being filled with anxiety: "Because your source of stress could be a variety of things such as having a toxic boss or the medical lab where you work is in the process of going through a merger. So it really comes down to the specific situation."
If you feel anxious at work, do some soul searching and take action. "Ask yourself, 'Why you are stressed and what is keeping you at that job?'" Salemi said. "Perhaps you like your profession but your workplace is stressful. If that's the case, start looking elsewhere. There are a multitude of opportunities right now so it never hurts to search." She also suggested taking personal days, adding exercise and taking breaks during the day to lessen workplace anxiety.
What if nothing you're trying works to reduce your daily stress? It might be time to find a new profession. To determine which jobs pay annualized wages above the national average of about $45,000, but are also considered to be low stress, Mic compared the professional stress level and salary list from the Occupational Information Network.
O*NET examined stress levels in a number of professions — based on how much the jobs require "accepting criticism and dealing calmly and effectively with high stress situations" — and ranked them on an index from 100 (high stress) to 24 (lower stress). Jobs with a stress rating above 90, for example, include potentially dangerous professions like being an acute care nurse, surgeon, or correctional officer — as well as other intense jobs like airline pilot, police dispatcher, chief executive and broadcast news analyst.
If stress or even criticism is the last thing you need, it may be smart to look at a chiller pool of jobs. Here are the most promising gigs the data turned up.
10. Operating engineer and other construction equipment operators
Stress level: 49
Median annual wage: $45,890
Job description: Writes programs and determines machine operation sequencing. Professionals should be skilled in Autodesk CAD, 1CadCam and other technology as well as training in a vocational school, an associated degree or on the job training.
9. Tapers
Stress level: 44
Median annual wage: $48,990
Job description: Worker seals joints in plasterboard or wallboard prior to prepare surface for painting. Positions include drywall finisher, drywall mechanic and taping foreman. Requires knowledge of building and construction and on the job training is necessary.
8. Archivists
Stress level: 52
Median annual wage: $50,500
Job description: Maintain and organize archival data and records. Also, professionals should be skilled at preparing and authenticating historical documents for analysis and review. Should have a master's degree.
7. Geological sample test technicians
Stress level: 51
Media annual wage: $56,470
Job descriptions: Evaluate and test geological oil and mineral samples to identify gas, petroleum and mineral deposit characteristics. Knowledge of chemistry, mathematics and computers is key for this position as well as having a bachelor's or master's degree.
6. Computer numerically controlled machine tool programmers
Stress level: 53
Median annual wage: $50,580
Job description: Design and develop programs to control process of metal or plastic parts for automatic machines or systems. Write coding and determine sequencing of machine operations, while testing and analyzing specifications to reduce and eliminate errors. In addition to computer and systems knowledge, workers should have on the job training or training at a community college or vocational school.
5. Boilermakers
Stress level: 48
Median annual wage: $62,060
Job description: Align, construct, maintain and assemble boiler house auxiliaries, as well as test and clean boilers and boiler furnaces. Boilermakers must possess knowledge of design, along with building and construction skills. Employees typically need a few years of on the job training.
4. Environmental restoration planners
Stress level: 53
Median annual wage: $68,910
Job description: Oversee and execute environmental restoration projects, which includes the collection and analysis of environmental conditions to determine needs. Should have analytical or scientific software skills and most professionals have a master's degree.
3. Fuel cell engineers
Stress level: 50
Median annual wage: $84,190
Job description: Lead and conduct fuel cell testing on projects as well as performing electrochemical diagnostics. Write proposals and technical reports relating to engineering projects, plus construct fuel cell components. A bachelor's or a master's degree is preferred.
2. Remote sensing scientists and technologists
Stress level: 52
Median annual wage: $96,070
Job description: Analyze data using the remote sensing principles to process aerial or satellite imagery to create land cover maps and develop technical or scientific databases. Although a master's degree is desirable, a doctorate is favorable.
1. Materials scientists
Stress level: 53
Median annual wage: $99,430
Job description: Evaluate, analyze and test chemical properties and structures of both synthetic and natural materials to determine ways to strengthen or combine materials to create a new compound. Positions include materials scientist, polymer materials consultant and vice president of research. Knowledge of physics, scientific software and chemistry is imperative and a master's or doctorate degree is preferable.
Sign up for The Payoff — your weekly crash course on how to live your best financial life. Additionally, for all your burning money questions, check out Mic's credit, savings, career, investing and health care hubs for more information — that pays off.