'Wolfenstein: The New Order' Enigma Codes: How to unlock game modes with these rare collectibles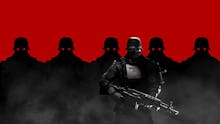 Wolfenstein: The New Order is rife with several different collectibles that you need to search every nook and cranny for. If you're replaying the game while you wait for Wolfenstein II: The New Colossus, we're here to help you track down some of those secrets, starting with the Enigma Codes.
Each Enigma Code represent pieces of a code that can be utilized to unlock additional game modes. You'll have to be extra vigilant to unearth these, as there are pieces of the codes scattered throughout every chapter of Wolfenstein: The New Order but three. Here's everything you need to know about Enigma Codes and how you can go about searching for them.
Wolfenstein: The New Order Enigma Codes: What are Enigma Codes?
Enigma Codes are special collectibles found throughout Wolfenstein: The New Order. Just like regular collectibles, they're located in each chapter of the game. You need to put together a set of nine different codes to unlock each portion. When you've unlocked all of the Enigma Codes, you'll unlock additional game modes that you can go back and enjoy once you've finished your first playthrough.
Wolfenstein: The New Order Enigma Codes: What do Enigma Codes unlock?
If you solve all of the Enigma Codes, you'll get the 999 Mode, which gives you 999 Health, unlimited ammo, and Uber difficulty, as well as "999% more action," according to the developers.
Walk in the Park Mode will disable all elements of your HUD except for any interactive prompts and will force you to rely on your senses to survive. It also unlocks I Am Death Incarnate as a difficulty mode.
Hardcore Mode takes away all heath packs and armor pieces from the game and has you playing on Uber difficulty.
Ironman Mode gives you one life to play with, and if it's ever game over for you, you die. You'll play on Uber difficulty.
Wolfenstein: The New Order Enigma Codes: How do you solve Enigma Codes?
You'll need to head over to the extras menu of Wolfenstein: The New Order and utilize any Enigma Notes that you've found in each chapter of the game to solve each code. You could take the hard way out, outlined here on the IGN Wiki, or use the following solution for the first Enigma Code:
01,02,03,04,05,06,07,08,09
08,07,06,05,04,03,02,01,09
This one will unlock 999 Mode, but you'll need to have all code solutions to unlock the rest of the hidden game modes. There's a full solution list at IGN if you can't figure out where to find all of the information in-game.
When you've found them all, you'll have access to several new challenging game modes. Happy hunting.
More gaming news and updates
Check out the latest from Mic, like this essay about the sinister, subtle evils lurking in rural America that Far Cry 5 shouldn't ignore. Also, be sure to read our review of Tekken 7 and a piece on the best gaming dads of all time.