Brussels Train Station Explosion: Security forces shoot suspect following explosion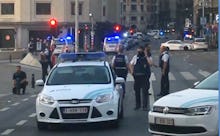 An explosion inside the Brussels Central Station forced commuters to evacuate the railway station Tuesday afternoon.
Law enforcement officials told ABC News that military personnel shot a suspect at the station.
The Telegraph reported that anti-terror police "neutralized" a person wearing an explosive belt.
According to Belgian newspaper La Libre, the suspect was wearing a backpack and an explosive belt and detonated a device after getting the attention of soldiers in the station, the BBC reported.
Witnesses say the man shouted "Allahu Akbar" during the encounter, according to several Belgian media outlets cited by the BBC.
"There was an accident at Central Station," a police spokesman told the Telegraph. "There was an explosion around a person. That person was neutralized by the soldiers that were on the scene."
Officials told ABC the situation is "under control" and no fatalities have been reported.
The Brussels prosecutor's office says there don't appear to be any civilian injuries or deaths from the explosions, according to a tweet from the Associated Press.
June 20, 4:40 p.m.: This story has been updated.