Philando Castile dashcam video released after Officer Jeronimo Yanez acquitted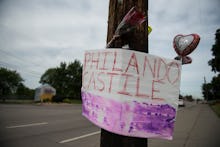 On Tuesday, authorities in Minnesota released several pieces of evidence from their investigation into Jeronimo Yanez, the police officer who fatally shot Philando Castile. The evidence included dashcam video, which recorded the encounter.
In the video, Castile can be heard telling Yanez, "Sir, I have to tell you, I do have a firearm on me."
(Editor's note: The following video contains graphic images. View with discretion.)
As Mic previously reported, Yanez was found not guilty Friday of second-degree manslaughter. He was also found not guilty of two counts of dangerous discharge of a firearm.
Castile's girlfriend, Diamond Reynolds, infamously streamed the aftermath of the shooting on Facebook Live.
The newly released dashcam video shows Yanez following Castile and Reynolds for a short period before pulling over the couple in Falcon Heights. After approaching Castile's window, Yanez said he pulled them over because his "brake lights are out," which was untrue as the cam footage shows.
Yanez then asked Castile for his license and registration, at which point Castile notes his firearm is in the vehicle. Upon hearing this Yanez unholsters his own gun and tells Castile, "Don't reach for it, then." Less than 10 seconds later, Yanez shot Castile at point-blank range.
As a Washington Post database reported, Castile was among 963 people fatally shot by police officers last year alone.
Yanez, according to the Washington Post, told investigators that he feared for his life when he pulled Castile over. "I know he had an object and it was dark," Yanez said. "And he was pulling it out with his right hand. And as he was pulling it out I, a million things started going through my head. And I thought I was gonna die."
According to the Star Tribune, Valerie Castile, Philando Castile's mother, confirmed that the Castile family plans to sue Yanez in federal court.
June 20, 2017, 5:51 p.m.: This story has been updated.