'Final Fantasy 14: Stormblood' Artifact Gear: What to know about level 70 gear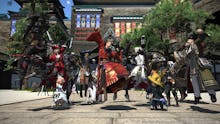 Final Fantasy XIV: Stormblood is bringing a massive amount of new content with it, and if you're already knee-deep in the trenches, no doubt you've heard about the special Artifact Gear that you'll receive when you reach level 70.
Artifact Armor or "Gear" refers to "iconic" armor sets available for each job that are given out through main story quests. Each job has a special set that has features akin to the job, such as a "gallant" set for paladins and "fighter" items for a warrior. Final Fantasy XIV: Stormblood features a set of this armor when you get to level 70 as well, and it's totally awesome, especially for fans of the classic Final Fantasy games.
Final Fantasy XIV: Stormblood: Artifact Gear available at level 70
You can check out some of the types of gear available in the game in the video below, which shows off the artifact sets for each class. Many hearken back to a classic time in the Final Fantasy franchise, such as typical Black Mage and Red Mage attire. It looks like it's more for the longtime fans this time around, and it's a real treat to see all the gear together.
Final Fantasy XIV: Stormblood is available right now. You'll be seeing the gear in action in no time.
More gaming news and updates
Check out the latest from Mic, like this essay about the sinister, subtle evils lurking in rural America that Far Cry 5 shouldn't ignore. Also, be sure to read our review of Tekken 7 and a piece on the best gaming dads of all time.