Police shooting videos don't mean justice for black people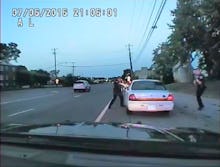 Philando Castile is dead. Minnesota police officer Jeronimo Yanez is free.
On Tuesday, just days after Yanez was found not guilty of second-degree manslaughter, dashcam video from his patrol car was released publicly for the first time.
The dashcam video is not the urgent cry for help that Castile's girlfriend, Diamond Reynolds, broadcast to the world. But the video shows how quickly — in 62 seconds — a seemingly routine encounter with a police officer can turn deadly. It's also an objective look at the subjective horror inflicted onto black bodies time after time — from Eric Garner to Laquan McDonald to Terence Crutcher to Alton Sterling and others.
The video shows the mundane moments that led up to the shooting: Yanez pointing out that Castile's brake lights were broken, Castile calmly telling the officer that there was a legally registered gun in the car. For the first time, we hear Castile's voice. "Sir, I have to tell you I do have a firearm on me."
In a matter of seconds, Yanez reached for his gun and quickly fired off several shots after he apparently thought Castile was indeed reaching for his own weapon. After shots were fired, you see Yanez standing at the driver's side door with his gun still pointed at Castile, as he frantically yells to "get the baby girl out the car." Dae'Anna, Reynolds' 4-year-old daughter, had witnessed it all.
You can hear Castile say softly, "I wasn't reaching." Then Reynolds begins livestreaming the chaotic moments after the shooting. Her video, in which she pleads for help as Castile's blood-spattered body lay slumped and unmoving, would later be seen by millions.
The jurors in the Yanez trial deliberated for five days, and at one point were deadlocked, before finally deciding that the Minnesota police officer was not guilty. At the trial, Yanez said he "was able to see the firearm in Mr. Castile's hand." He also told jurors that he feared for his life.
The jury had seen both videos, and still, it wasn't enough to convict Yanez. But how?
"The video does not show images that might have been essential for jurors to consider: a full view of the front seat of Mr. Castile's car, which would have showed his hands — and what he was reaching for — just before the shooting," Mitch Smith wrote for the New York Times.
Reynolds has said Castile was reaching for his license. In her testimony, she said she livestreamed the incident because if she died that night, "everyone would know the truth."
"People are not protected against the police," she said Yanez's trial. As if on cue, as if her boyfriend's bloody body laying next to her that July night wasn't enough, this video is more proof that she's right.
Watch as Mic's senior staff writer Aaron Morrison explains why police officers are often not held accountable for excessive force.