When will Tropical Storm Cindy hit the US? Here's its expected landfall and what you should know.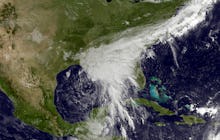 Tropical Storm Cindy, the third named storm of this hurricane season, is expected to reach the United States late Wednesday or early Thursday, bringing gusty winds, very heavy rainfall and possible flash floods and tornadoes to the Gulf Coast, the National Oceanic and Atmospheric Administration announced Wednesday.
The storm is expected to make landfall near the Louisiana-Texas border and move inland on Thursday before turning northeastward and moving across much of the American South.
Cindy will bring maximum sustained winds of 50 mph and estimated rainfall of 6 to 9 inches, NOAA said, though parts of southeastern Louisiana, southern Mississippi and Alabama and the Florida panhandle could see as much as 12 inches of rain, which could cause "life-threatening flooding in these areas."
Authorities across the Gulf Coast and South began preparations in anticipation of Cindy's landfall. Gov. Kay Ivey of Alabama declared a statewide state of emergency on Tuesday, with Gov. John Bel Edwards of Louisiana following suit on Wednesday.
Texas Gov. Greg Abbott ordered the State Operations Center, part of the state's Division of Emergency Management, to increase its readiness Tuesday afternoon.
"We have been through this many, many times before," New Orleans Mayor Mitch Landrieu said at a press conference on Tuesday, according to PBS. "I don't want anybody to panic. There's no reason to do that. But this is going to be a serious event."