Brussels train station bomber had Islamic State ties, prosecutors say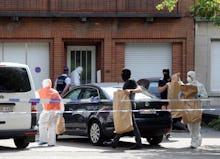 Belgian prosecutors said the man who attempted to detonate a nail bomb at a train station in Brussels on Tuesday harbored Islamic State sympathies, the Associated Press and Reuters reported on Wednesday.
Police found "chemicals and material that can be used to make explosives" in the man's home in the Molenbeek neighborhood, the AP reported. The attacker "likely made the bomb" he had with him at the train station at home, police said, according to the AP.
The man, who Belgian authorities said was a 36-year-old Moroccan citizen, brought a suitcase bomb containing nails and gas bottles to Brussels Central Station, Eric Van der Sijpt, a spokesman for the Belgian federal prosecutor's office, told the New York Times.
The bomb produced two small explosions, Van der Sijpt told the Times, but no one was injured. Afterward, the man charged a soldier, yelling "Allahu akbar," Arabic for "God is great." The soldier fatally shot the man, the Times reported.
The incident is being treated as terrorism, Van der Sijpt told the Guardian.
The Islamic State, also known as ISIS, has claimed responsibility for a spate of terrorist attacks recently, including the June 3 attack on London Bridge in London, in which seven people were killed and 48 injured, and the May 22 bombing at an Ariana Grande concert in Manchester, U.K., which left 22 dead and 59 injured.
Notably, ISIS also claimed responsibility for the March 22, 2016, bombings of the Brussels airport and a subway station that killed 32.