Sex crime advocates say 2 underage girls forced into sex during robbery are victims, not criminals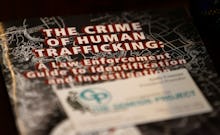 Sex-crime-victim advocates are criticizing a Philadelphia prosecutor's decision to charge two underage teen girls who allegedly were forced to perform sex acts on a man during a robbery.
Authorities say the alleged April 22 crime was orchestrated by a 28-year-old man named Reginald Lewis, according to Philly.com.
Prosecutors say Lewis created an ad on Backpage that lured another man into a northeast Philadelphia home to have sex with two unnamed underage girls, ages 16 and 17.
Authorities say at least one of the girls held the sex buyer at gunpoint for an hour, which Assistant District Attorney Elizabeth Fischer argues makes the girls just as guilty as their alleged pimp.
"Human trafficking victims don't hold people at gunpoint," Fischer told the court during a bond hearing for one of the girls. "This defendant knew what she was doing."
Sex-crime-victim advocate Shea M. Rhodes, director of the Villanova Law Institute to Address Commercial Sexual Exploitation, said prosecutors are wrong to charge the two girls; Rhodes said they likely were forced by Lewis to commit the robbery.
"It is not uncommon for traffickers to make their victims complicit in other crimes," Rhodes said in an interview Wednesday. "It's an additional act of coercion, something they can hold over their heads."
Lewis and the teen girls are being charged as adults with the same crimes, which include felony kidnapping, simple assault, false imprisonment, theft and conspiracy, according to Philly.com.
Rhodes said Pennsylvania is one of 29 states that do not have a so-called "safe harbor" law granting limited related criminal immunity to sex trafficking victims.
Pennsylvania state senators introduced a safe harbor bill in 2015 that was passed in the Senate in April, but hasn't been signed into law yet.
State Sen. Daylin Leach said he's contemplating filing a lawsuit to stop prosecutors from charging children with prostitution-related crimes.
"It is illegal in Pennsylvania for a juvenile to consent to sex with an adult. That's what statutory rape laws are," Leach said, according to Philly.com. "If these girls legally cannot give consent, how can they be charged with a crime for something they can't consent to?"