Steam Summer Sale 2017: Start date, what games to expect and everything else to know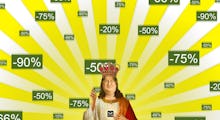 Every year, Valve blesses us with another Steam Summer Sale. Every year, we open our wallets and watch tumbleweeds lazily drift about inside. It's that time again, gamers. Get ready to pounce on some awesome deals coming your way for Steam Summer Sale 2017.
Steam Summer Sale 2017: When you can start gorging on games
After PayPal let the cat out of the bag regarding the dates for the Steam Summer Sale via the official PayPal Twitter account, it was all over but the crying. The sale will officially begin on Thursday.
If you're in the UK, PayPal UK even has a special promotion for buyers participating in the sale. Those who spend £20 or more will get £5 off of their total purchase from the Steam Sale when paying with PayPal. This will run until July 5, 2017, which seems to hint that the sale will run until then as well. However, there hasn't been any announcement from the PayPal US account or Valve to confirm either of those things thus far.
Steam Summer Sale 2017: When games will be available?
Valve hasn't yet let anything slip about what games will be available during the sale, but if previous sales are any indication, there'll likely be a good chunk of new and old titles with a hefty discount. You'll see 5%, 10% and even up to 90% off some of the games, so keep your eyes peeled as soon as the Steam store updates to get a leg up on which sales will be available for a short amount of time.
Get ready to start dropping some cash on your favorite games as we kick off the annual video game Christmas in June session. It's going to be another wild one.
More gaming news and updates
Check out the latest from Mic, like this essay about the sinister, subtle evils lurking in rural America that Far Cry 5 shouldn't ignore. Also, be sure to read our review of Tekken 7 and a piece on the best gaming dads of all time.