'Yakuza 6' Gameplay: See the first English footage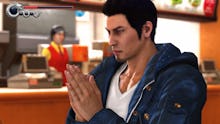 There's a little while to wait until Yakuza 6: The Song of Life, the latest installment, releases in 2018. If you're finding that a ridiculously long time to wait, 15 minutes of English gameplay footage has surfaced care of IGN, and it looks fantastic.
The Yakuza series is one of the unsung heroes of gaming. If you've never journeyed into the franchise before, you've made a terrible mistake. With Yakuza: Kiwami on the way and the excellent Yakuza 5 already out on store shelves, you've got a lot of catching up to do.
Yakuza 6: First English gameplay footage
The 15 minutes of gameplay (via IGN) show protagonist Kazuma Kiryu wandering the streets and interacting with various characters, now in English. The game will feature settings from the brand new port town of Onomichi in Hiroshima Prefecture to Kamurocho, the largest red-light district in all of Tokyo.
The English version of the game won't feature English voice actors, of course, as is par for the rest of the series, but as the video demonstrates the conversations have been translated with English subtitles.
Just like the other Yakuza games, this entry will feature several mini-games and other diversions scattered throughout its cities to keep you busy between story missions.
There's no concrete release date for Yakuza 6 just yet, but we'll keep you updated as soon as we find out additional details.
More gaming news and updates
Check out the latest from Mic, like this essay about the sinister, subtle evils lurking in rural America that Far Cry 5 shouldn't ignore. Also, be sure to read our review of Tekken 7 and a piece on the best gaming dads of all time.