American Health Care Act by the numbers: What to know about Senate Republicans' secret health plan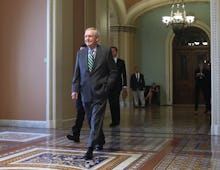 Senate Republicans on Thursday unveiled a "discussion draft" of their top-secret plan to repeal and replace the Affordable Care Act, bringing into the light of day the health care reform plan they drafted behind closed doors.
President Donald Trump, speaking at a rally in Iowa Wednesday evening, promised the Republicans would put forth a "really good plan" — a "plan with heart," Trump said.
But Democrats, who have criticized the way Republicans drafted the bill, pounced on the plan after its unveiling Wednesday. "This bill will result in higher costs, less care and millions of Americans will lose their health insurance, particularly through Medicaid," Senate Minority Leader Chuck Schumer said. "The way this bill cuts health care is heartless."
Here's a numerical overview of the Senate's American Health Care Act — and what Republicans will need to do to get it passed.
11 million
The number of Americans who benefitted from the ACA's Medicaid expansion.
Four
The number of years it will take to phase out federal funding for that Medicaid expansion under the Senate Republicans' plan. Moderate Republicans had favored phasing out the expansion more gradually over a seven-year period.
2021
The year the Senate plan would begin changing the way the federal government funds Medicaid. Like the version of the bill passed by the House, the Senate plan would fund Medicaid via either block grants or per capita, capped amounts of money provided to the states. Doing that alone could challenge state budgets, tighten eligibility rules and limit the coverage recipients receive.
The funding proposed in the latest version of the plan grows more slowly than the last one, meaning Senate Republicans are going even further than their House counterparts in targeting Medicaid.
2.4 million
The number of Americans served by Planned Parenthood each year. The AHCA would cut funding to the organization for a year.
Zero
The number of public hearings the Senate Republicans' will hold on the AHCA.
Seven
The number of days until Senate Majority Leader Mitch McConnell wants the Senate to vote on the 142-page bill. He is hoping the newly unveiled health care plan will be scored by the Congressional Budget Office by Tuesday for a vote ahead of the July 4 recess.
23 million
The number of Americans who would lose their health coverage under the version of the AHCA passed by the House in May, according to the CBO.
50
The number of votes Republicans will need to pass the bill through the Senate. Republicans control 52 seats, but if no more than two defect, they can still pass it via another tie-breaking vote by Vice President Mike Pence.