These abysmal new poll numbers for House health care bill don't bode well for Senate version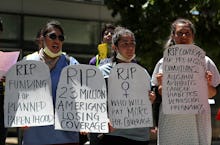 Senate Republicans' newly-unveiled healthcare bill looks a lot like the one passed by House Republicans in May and that's bad news to a majority of Americans, according to a new poll.
Research conducted by NBC News and the Wall Street Journal in June indicates Americans disapprove of the House's American Health Care Act by a three-to-one margin.
Forty-eight percent of Americans say the AHCA, aka TrumpCare, is a bad idea while 16% say it's a good idea, the poll shows.
Only 34% of Republican voters approve of the bill.
Among independents, 16% approve of the House bill and 48% disapprove. Seventy-three percent of Democratic voters hate it as well.
House Bill 2.0
The bad news for Senate Republicans is that despite some differences, their bill is remarkably similar to the unpopular House version.
Both the Senate and the House bills would cap Medicaid spending and eliminate its open-ended entitlement status, according to the New York Times.
The Senate's bill offers increased financial assistance to some lower-income Americans to help them afford increasingly expensive private health insurance.
But like the House bill, the proposed Senate bill also would phase out extra financial incentives provided to states by the federal government to expand eligibility for Medicaid.
It would cut more than $800 billion from Medicaid over 10 years to afford eliminating the tax increases imposed to pay for Obamacare for that program to fund itself.
Medicaid provides services to one in five Americans, including almost 66% of elderly nursing home residents, according to the New York Times.
After the House passed its bill on May 4, Republican Sen. Bob Corker told MSNBC the likelihood of the Senate passing a similar bill was small.
"People are going to want to improve it," Corker told Morning Joe host Joe Scarborough. "I don't see any way that it goes back [to the House] in the form that it comes. ... Over here, people want to make sure that it's something that's going to works for the American people."
But the Republican Senators are proposing to do the exact opposite of what Corker said, passing a bill that's almost identical to the one the House passed.
Democratic House Leader Nancy Pelosi and Republican House Speaker Paul Ryan see very little difference between the Senate and House bills.
"[The Senate bill] tracks in many ways along the lines of the House bill," Ryan told reporters on Thursday, according to the Washington Post. "I think that's very good."
Even President Donald Trump has called the House Bill "mean" in his calls for the senate to draft and pass less fiscally drastic legislation.
Polling data on the Senate bill won't likely be available for a short while, but early reaction indicates many Americans don't like it any better than the House bill.
Elderly anti-Trump Care protesters and those with disabilities had to be removed by force from outside Senate Majority Leader Mitch McConnell's office Thursday. Senate Minority Leader Chuck Schumer (D-N.Y.) said the senate's bill may be worse than the House's.
"The Senate Republican health care bill is a wolf in sheep's clothing," Schumer said on the Senate floor Thursday, "only this wolf has sharper teeth than the House bill," he added.