Donald Trump doesn't have tapes of James Comey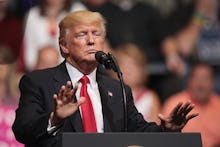 President Donald Trump on Thursday announced he does not have tapes of his conversations with former FBI Director James Comey, despite suggesting that he did.
"With all of the recently reported electronic surveillance, intercepts, unmasking and illegal leaking of information, I have no idea whether there are 'tapes' or recordings of my conversations with James Comey, but I did not make, and do not have, any such recording," Trump tweeted Thursday.
Trump threatened to release "tapes" of his conversations with Comey, days after Trump fired him.
"James Comey better hope that there are no 'tapes' of our conversations before he starts leaking to the press!" Trump tweeted May 12.
Since then, both Trump and the White House have refused to say whether such tapes exist.
During a joint press conference with Romanian President Klaus Iohannis earlier this month, Trump said he would announce whether he had tapes "over a very short period of time."
The opaqueness of whether Trump had actually taped his conversations with Comey led the House Intelligence Committee to set a June 23 deadline for Trump to either produce the tapes, or admit they did not exist.