Obama defends his signature health care law as Senate unveils plan to repeal it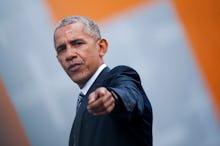 Former President Barack Obama on Thursday came to the defense of one of his signature achievements, the Affordable Care Act, after Senate Republicans announced draft legislation to gut it.
"The Senate bill, unveiled today, is not a health care bill," Obama wrote on Facebook. "It's a massive transfer of wealth from middle-class and poor families to the richest people in America. It hands enormous tax cuts to the rich and to the drug and insurance industries, paid for by cutting health care for everybody else."
Experts said the Senate's Better Care Reconciliation Act of 2017, as it's called, would result in more Medicaid beneficiaries losing health insurance than even the House version of the bill, which passed in May.
"Simply put, if there's a chance you might get sick, get old, or start a family — this bill will do you harm," Obama wrote. "To put the American people through that pain — while giving billionaires and corporations a massive tax cut in return — that's tough to fathom. But it's what's at stake right now. So it remains my fervent hope that we step back and try to deliver on what the American people need."
New polling conducted by NBC News and the Wall Street Journal, published shortly after the Senate released its bill, showed the House version of the legislation was unpopular across the political spectrum. Americans disapprove of the House version of the bill by a three-to-one margin. It was massively unpopular among Democrats and Republicans, but not even Republicans liked it very much: only 34% of Republican voters said they thought passing the AHCA would be a good idea.
Obama called on Congressional Republicans to respect the views of their voters. "I still hope that there are enough Republicans in Congress who remember that public service is not about sport or notching a political win, that there's a reason we all chose to serve in the first place, and that hopefully, it's to make people's lives better, not worse," he wrote.
Obama wasn't the only Democrat, or even the only Republican, to come out against the bill. Democrats across the board condemned it and four Republican senators — Rand Paul (R-Ky.), Ted Cruz (R-Texas), Mike Lee (R-Utah) and Ron Johnson (R-Wis.) — said the bill wasn't conservative for it to have their vote.