Judge affirms "Making a Murderer" subject's confession was coerced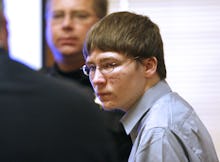 A federal appeals panel in Chicago on Thursday upheld a previous ruling stating that Making a Murderer's Brendan Dassey's confession was coerced, the Associated Press reported.
In 2007, Dassey was convicted of first-degree intentional homicide, mutilation of a corpse and first-degree sexual assault, Mic reported. He was sentenced to life in prison.
In 2015, the case made headlines once again because of the Netflix documentary Making a Murderer, which chronicled Dassey's story along with his uncle Steven Avery, who was also convicted in the death of photographer Teresa Halbach.
Dassey's confession has been the subject of great controversy. As WBAY reported, Judge William Duffin first ruled in August that the confession was improperly obtained due to his age. Moreover, WBAY reported, Dassey has known intellectual deficits and submitted to questioning at the age of 16 without an adult present.
The decision to uphold the lower court ruling could finally help free Dassey after spending more than a decade in prison.
"A few factors and passages from Dassey's confession support the majority's view that the confession was not voluntary," the court's conclusion read. "Many other factors and passages support the state courts' view that overall, the confession was voluntary."
Wisconsin now has 90 days to retry Dassey, according to the Associated Press. Additionally, both Avery and Dassey maintain their innocence and claim they were framed by local police.