NASA calls Goop's ridiculous bio-frequency healing stickers exactly what they are: ridiculous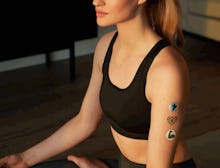 Actress Gwyneth Paltrow's "Goop" lifestyle brand — which sells everything from handbags to $75 monthly pill subscriptions — has no problem hawking products with sensationalized marketing claims. In fact, a short list would probably include $66 jade eggs meant for shoving up vaginas or smoothie "sex dust" made of "vanilla mushroom protein powder," cordyceps caterpillar fungi and other odd ingredients.
But now, a NASA scientist is criticizing Paltrow's "body vibes" stickers, which claim to use "NASA space suit material" to "rebalance the energy frequency in our bodies."
Goop alleged that the stickers are made with "the same conductive carbon material NASA uses to line space suits." That sounds really impressive, except for the fact that it's probably not true. A NASA representative told Gizmodo that they "do not have any conductive carbon material" lining their astronaut spacesuits, and if they did, such material wouldn't be used to monitor human vital signs like Goop claims.
Spandex or synthetic polymers, on the other hand, would have been right on the money (and speaking of money, these patches cost as much as $120 for a pack of 24).
Goop also claims the stickers can help reduce anxiety and pain using "Bio Energy Synthesis Technology" from biotech company AlphaBioCentrix. According to Gizmodo, AlphaBioCentrix's founder, Richard Eaton, says that the research proving Goop's stickers work is "confidential" and "held as company private information."
But Mark Shelhamer, a former chief scientist at NASA's human research division, told Gizmodo that it's a "load of BS."
"Not only is the whole premise like snake oil, the logic doesn't even hold up," he said. "If they promote healing, why do they leave marks on the skin when they are removed?"
Since Gizmodo's report first ran on Thursday, Goop removed its NASA claim and released a statement that basically tells us not to blame the messenger.
"As we have always explained, advice and recommendations included on Goop are not formal endorsements and the opinions expressed by the experts and companies we profile do not necessarily represent the views of Goop," the statement read. "Based on the statement from NASA, we've gone back to the company to inquire about the claim and removed the claim from our site until we get additional verification."
At least Goop admitted that they don't even endorse the claims on their own website.