Tomi Lahren wants to rally women to her side after criticizing feminists and "pro-choicers"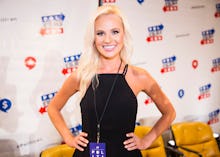 Right-wing provocateur Tomi Lahren appears to be re-branding herself as a conservative advocate for women's rights even though her past and present political positions on women's issues are often inconsistent.
Lahren was fired almost three months ago from her show on Glenn Beck's The Blaze network after declaring she was pro-abortion rights during a guest appearance an episode of The View.
On Friday, Lahren reaffirmed her tenuous support for a woman's right to get an abortion in a new interview with Marie Claire.
In the article, Lahren details how and why she's both anti-abortion and pro-abortion rights.
My view on abortion is not black-and-white — there is a gray area in there, and that's where I fall. I would never get an abortion — I would never tell anyone to get an abortion; in fact, I've had friends in that position, and I have tried to counsel them otherwise. But from my view, I just don't feel right having the government tell a woman that she is restricted from having an abortion. I would personally feel like a hypocrite for doing that.
Pro-Trump and pro-women?
Seven hours after Marie Claire published her article, Lahren proudly retweeted it, encouraging women everywhere to "find your voice."
Days earlier, Lahren tweeted a D Magazine article about the Young Women's Leadership Summit she spoke at in Dallas, which was organized by the conservative nonprofit Turning Point USA. In her tweet, Lahren called conservative women, "the Left's worst nightmare."
But Lahren's pro-woman messaging doesn't always appear to line up with her politics. On Sunday, for example, she retweeted an attack on single mothers and the children who "choose" to honor them on Father's Day.
Lahren identifies as a Trump supporter, even though the Trump administration and Republicans are actively working to limit abortion rights both in the U.S. and abroad. In April, Trump signed a bill allowing states to cut federal funding to organizations that provide abortion services.
After her firing from TheBlaze, Lahren was hired as a communications and messaging strategist for the pro-Donald Trump PAC Great America Alliance.
Lahren herself has erroneously attacked Planned Parenthood for providing abortions funded with federal taxpayer money. (In truth, federal law prohibits Planned Parenthood from using federal funding for abortions.)
She's attacked Planned Parenthood again on Dec. 22 during her Final Thoughts on HBO Girls star Lena Dunham's abortion comments controversy.
"And here I thought the loving Left, the snowflake marchers, were all about peace and love and life, except when it comes to the unborn, I suppose. Then it's a different story," Lahren said.
"Abortion or anti-abortion isn't my top issue, but boy wouldn't it be nice if tax-payers didn't have to shell out our hard-earned dollars to pay for the wishful abortions of people like Lena Dunham? Wouldn't it be nice if Planned Parenthood weren't allowed to wheel and deal fetal tissue from abortion it performs?" she concluded.