'GTA 5' OpenIV Mods: Rockstar will now allow PC players to use single-player mods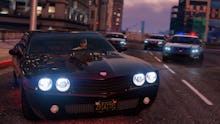 After Rockstar Games' publisher Take-Two Interactive pushed to shut down OpenIV, a tool used for several Grand Theft Auto V mods, Rockstar Games has published a FAQ page on its official website detailing what is and isn't allowed per the game's terms and conditions. It doesn't look like anything has changed by way of allowing modders to utilize OpenIV, but it does seem as though Rockstar will allow single-player mods for PC players without bringing down consequences on the heads of players.
Grand Theft Auto 5 Mods OpenIV: Rockstar's statement
After remaining silent over the past few days while fans have reacted in uproar over the decision to shutter OpenIV and disallow modding, Rockstar seems to have updated its FAQ to reflect its agreement of sorts with its publisher to allow single-player mods. The statement, in response to the question "Are PC single-player mods allowed?" read:
Rockstar Games believes in reasonable fan creativity and, in particular, wants creators to showcase their passion for our games. After discussions with Take-Two, Take-Two has agreed that it generally will not take legal action against third-party projects involving Rockstar's PC games that are single-player, noncommercial and respect the intellectual property rights of third parties.
The explanation clarifies further that this doesn't apply to anyone playing online with multiplayer modes, or "tools, files, libraries or functions that could be used to impact multiplayer or online services." It also stretches to "use or importation" of other IP in the project.
Essentially, Rockstar Games has come to the conclusion that players can keep messing about with the mods they currently have, but they can't create new ones. This isn't the answer anyone frustrated by the decision to force OpenIV out of operation was looking for, but at least it's a comfort for anyone looking to play with single-player content mods.
More gaming news and updates
Check out the latest from Mic, like this essay about the sinister, subtle evils lurking in rural America that Far Cry 5 shouldn't ignore. Also, be sure to read our review of Tekken 7 and a piece on the best gaming dads of all time.