SNES Classic Rumors: Reports of 'behind closed doors' events from GameStop managers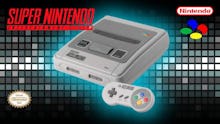 Ever since Nintendo announced that production would cease of the coveted NES Classic units, there have been rumors buzzing that a possible SNES Mini in the same vein of that console could be making its way to stores. The rumor mill continues to keep on rolling, this time by way of Destructoid, whose former editor-in-chef Jonathan Holmes claimed he supposedly spoke to several GameStop employees who have insider knowledge that SNES Classic systems could well be on their way.
SNES Mini Rumors: Possible closed-doors events for GameStop managers
According to Holmes, who spoke to several GameStop managers, Nintendo had some sort of "behind closed doors events" during which details were given about a possible SNES Mini or SNES Classic plug-and-play system like the NES Classic.
Holmes stated that the first manager he spoke to, who he does not name in his report, stated that there was currently no release date for the system, but the manager guessed that it might "drop this holiday." Of course we should take this information with a grain of salt, despite Holmes' insistence that several other store managers chimed in with similar information.
His second source was reportedly another GameStop manager about an hour away from the first manager he spoke to, who also claimed that they had been to some sort of "meeting" with Nintendo who had confirmed that the SNES Classic was indeed a thing. Still another third source in another unrelated GameStop location in another state (none are specified within the report) stated that this meeting did indeed take place and that "Yes, there is going to be a SNES Classic. No, it does not have a release date," and other commentary regarding his own thoughts on the matter.
Of course, this isn't the first time we've heard about a possible SNES Classic edition. Eurogamer asserted previously back in April that several sources "close to" Nintendo had actually confirmed that an SNES Classic Edition is on it's way. It's not hard to believe that this may be a reality, especially with the massive popularity and limited run of the original NES Classic.
These reports do tend to lend credence to the gossip, though as with all rumors we'll have to wait for further confirmation beyond reports and caricatures of GameStop managers to bring you anything concrete.
More gaming news and updates
Check out the latest from Mic, like this essay about the sinister, subtle evils lurking in rural America that Far Cry 5 shouldn't ignore. Also, be sure to read our review of Tekken 7 and a piece on the best gaming dads of all time.