'Injustice 2' Sub-Zero Release Date: DLC gameplay, price and details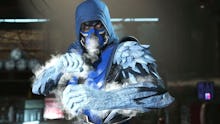 Injustice 2 recently welcomed Red Hood as the first fighter available as additional DLC with the Fighter Pack 1 bundle. There are other fighters headed to Injustice 2 as well, like Sub-Zero of Mortal Kombat fame. The blustery brawler is bringing his icy powers to the realm of Injustice 2 to stop Captain Cold dead in his tracks, and game director Ed Boon has taken to Twitter to announce when you can finally play as Sub-Zero. It's about time!
Injustice 2 DLC: Sub-Zero release date
According to Boon's Twitter account, Sub-Zero is coming to Injustice 2 as of July 11. Boon teased the announcement with the statement "Winter is coming....in July."
It's a pretty ominous statement that fans should be getting excited about, especially as Sub-Zero is the first crossover character from Mortal Kombat to be making his debut in Injustice 2.
Sub-Zero will come as a part of Fighter Pack 1 along with the already-released Red Hood and Starfire. You can already play as Red Hood now if you purchased the DLC pack for $19.99. If you don't want to wait until July 11 to purchase the pack, you can at least play with a new character right now in the form of Red Hood while waiting for Sub-Zero to drop.
Sub-Zero's frosty tricks will be a boon for anyone looking to revisit NetherRealm Studios' excellent Mortal Kombat X, which featured exemplary fighting and iconic characters from the series.
More gaming news and updates
Check out the latest from Mic, like this essay about the sinister, subtle evils lurking in rural America that Far Cry 5 shouldn't ignore. Also, be sure to read our review of Tekken 7 and a piece on the best gaming dads of all time.