Chance the Rapper demands justice for Chicago at BET Awards, with an assist from Michelle Obama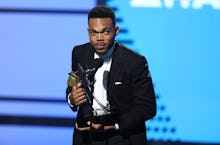 Chance the Rapper took home BET's humanitarian award on Sunday night and gave a speech that was a rallying cry to improve black lives in Chicago. And he did it with a little bit of help from former first lady Michelle Obama, another Chi-town native.
Obama introduced Chance in a video message that praised what she called the rapper's "passionate efforts" to get Chicago kids "the education they deserve." She was talking not just about the rapper's music, but also his $1 million donation to Chicago public schools and the money he's raised for his own advocacy organization, Social Works. "Chance is showing our young people that they matter."
Obama continued: "We have known Chance and his family since he was a wee little baby rapper. Chance is showing our young people that they matter. That they have something inside of them that is worthy of being expressed. ... I can think of no better legacy to leave. And I am thrilled to celebrate you here tonight and honored to call myself your friend."
And then it was Chance's turn at the mic: He called out the lack of convictions in police shootings and the incarceration of people convicted of selling weed. He also made a public commitment to better himself as a person and a father. Watch the full speech here:
Chance's win was one of the night's bright spots at this year's BET Awards, which have been around since 2001 and aim to celebrate black achievement in music and television entertainment.