Philando Castile's family reaches $3 million settlement with Minnesota police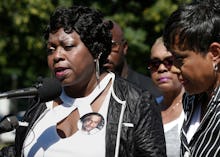 The Minneapolis suburb where a police officer fatally shot Philando Castile in 2016 has reached a settlement with his mother, Valerie Castile, the Associated Press reported Monday. According to Valerie Castile's attorneys, the city of St. Anthony, Minnesota, has agreed to pay nearly $3 million to avoid a federal wrongful death lawsuit over the black 32-year-old's July 6 shooting death.
The League of Minnesota Cities Insurance Trust, St. Anthony's liability insurer, will pay out the $2.995 million settlement, which requires approval by a state court, according to the AP.
St. Anthony police officer Jeronimo Yanez killed Philando Castile during a 2016 traffic stop after Castile informed Yanez he was armed. Castile had a legal permit for his gun, which Yanez claimed the school cafeteria worker was reaching for when he opened fire.
The shooting, which came a day after police officers in Baton Rouge, Louisiana, killed Alton Sterling, attracted national attention because Castile's girlfriend, Diamond Reynolds, livestreamed its aftermath on Facebook. On Tuesday, police released the dash-cam video showing the moment Yanez opened fire on Castile — with Reynolds and her then-4-year-old daughter in the car.
Yanez, who identifies as Latino, was acquitted June 16 of second-degree manslaughter and firearms-related charges.
The Castile family settlement is just the latest in a string of multi-million-dollar payouts following police-involved deaths of African-Americans. On Tuesday, the parents of Michael Brown — the unarmed black teen fatally shot by Ferguson, Missouri, police in 2014 — announced they had settled with the suburban St. Louis city for an undisclosed amount. Ferguson's insurance policy caps the maximum payout at $3 million, according to the St. Louis Post-Dispatch.
In a settlement following the November 2014 shooting death of 12-year-old Tamir Rice, Cleveland agreed to pay $6 million. In New York City, the families of Eric Garner and Akai Gurley settled with officials for $5.9 million and $4.1 million, respectively. In Baltimore, city officials agreed to pay $6.4 million to settle a lawsuit over the in-custody death of Freddie Gray.