Serena Williams responds to John McEnroe's comments saying she would rank "like 700" against men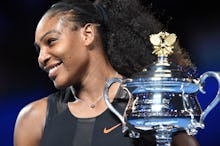 When giving an interview on Sunday, tennis legend John McEnroe told NPR that Serena Williams is without question the greatest female tennis player in history.
"Best female player ever — no question," he stated. But when pressed by reporter Lulu Garcia-Navarro on why he qualifies the statement with "female" McEnroe replied, "Oh! Uh, she's not, you mean, the best player in the world, period?" McEnroe then added, "Well because if she was in, if she played the men's circuit she'd be like 700 in the world."
The statement showed a slight shift in McEnroe's usual praise for Williams, who he called "arguably the greatest athlete of the last 100 years," after she won Wimbledon in 2015, according to ESPN. In 2012, McEnroe additionally said of Williams, "You're watching, to me, the greatest player to ever play the game."
On Monday, Williams replied to McEnroe's comments on where he believes she'd rank, writing in a tweet, "Dear John, I adore and respect you but please please keep me out of your statements that are not factually based."
In a second tweet, Williams asked that McEnroe and others respect her privacy as she takes personal time to have her first child.
This isn't the first time the idea of Williams playing against men has come up.
Four years ago Williams was asked about playing an exhibition match against Andy Murray during an appearance on "Late Night with David Letterman." At the time, Williams stated that she believed women's and men's tennis were just two completely different sports and that she'd rather stick to playing other women, the Chicago Tribune reported.
"For me, men's tennis and women's tennis are completely, almost, two separate sports," Williams said on the show. "If I were to play Andy Murray, I would lose 6-0, 6-0 in five to six minutes, maybe 10 minutes. No, it's true. It's a completely different sport. The men are a lot faster and they serve harder, they hit harder, it's just a different game. I love to play women's tennis. I only want to play girls, because I don't want to be embarrassed."
As the Guardian noted, female or not, Williams is still one of the best athletes in the game. Williams has won 23 Grand Slam titles in singles, 14 in women's doubles and two in mixed doubles. The closest male competitor is Roger Federer, who has 18 Grand Slam titles to his name.