Global ransomware hack hits infrastructure targets across Europe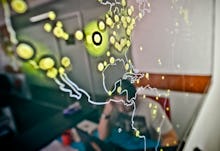 A ransomware attack hit companies and government agencies across Europe Tuesday, the Guardian reported.
Among the largest targets was Russian oil giant Rosneft, which is majority-owned by the Russian government. The company confirmed the hack on Twitter, but said it hadn't affected oil production. "The company's servers underwent a powerful hacking attack," the company said in tweets translated by Reuters. "The hacking attack could lead to serious consequences, but the company has moved to a reserve production processing system and neither oil output nor refining have been stopped."
In Copenhagen, global shipping company Maersk was also hit, Reuters reported, though it was unclear if the attacks were linked.
But Ukraine appears to have been the hardest hit by the ongoing hack. The country's central government, its largest airport and its national power supply company were all targeted, the Independent reported.
Ukrainian deputy prime minister Rozenko Pavlo told reporters he and other government officials lost access their computers.
Experts told Vice's Motherboard that the attack appears to rely on ransomware known as Petya, which bears a resemblance to the WannaCry ransomware attack that infected computers across the globe in May. That attack resembled previous hacks orchestrated by North Korea, but experts haven't begun to determine who's behind Tuesday's hack.
Systems in Russia, Ukraine, Spain and France have been affected, Aleks Gostev, chief security expert at Russia-based cybersecurity firm Kaspersky Lab, said on Twitter.
This is a developing story and will be updated.