China may have achieved a seemingly impossible renewable energy goal, putting the US to shame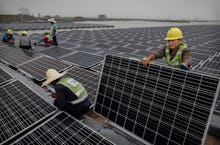 President Trump may not be interested in renewable energy or the Paris Agreement, but that's not stopping other parts of the world from innovating.
China, long ridiculed for its air pollution and use of fossil fuels, may quickly outpace the U.S. when it comes to clean energy. A test run in the nation's Qinghai Province foreshadows that future: China's state-run Xinhua News Agency claims that more than 5 million residents lived completely off of wind energy, solar energy and hydropower for seven consecutive days.
The amount of energy allegedly used in the test run is equivalent to a whopping 535,000 tons of coal, the news report said. About 72% of the energy came from hydro power plants during the project, which started on June 17 and ended at midnight on June 23.
The Chinese government and the Trump administration have different visions for the future.
Even outside of the weeklong experiment in Qinghai Province, China is already earning its stripes as a world leader in solar energy and other renewables. Part of it might be that China is the largest manufacturer of solar panels in the world. But President Xi Jingping has also outright pledged to fulfill 20% of the country's energy supply using non-fossil energy sources by 2030, according to a 2017 report. To put that in perspective, the government has promised to allocate $360 billion for that cause in the next three years — the U.S., on the other hand, has just backed out of the Paris Agreement and its pro-renewable policies.
China has made its interest in clean energy well-known, even before the the U.S. backed out of the Paris Agreement.
"China has wasted no time in directing billions of dollars into its clean energy sector," an April 2015 report by the Climate Group reads. The report states that China increased its investments in the clean energy sector by 32% in 2014, totaling $89.5 billion in the end. That's almost 73% more than what the US invested in that same year.
Powering Qinghai Province was a real proof of concept, and the first step to creating an estimated 13 million jobs.
Meanwhile, Trump has implied that clean and renewable energy sources are "job-killing."
Basically, this may be the new narrative — the one that we remember in the future: China takes yet another progressive step toward totally owning the renewables market and quashing bad habits that hurt the environment. Meanwhile, the U.S. stubbornly falls behind.