5 smart and creative things to do with $1,000 right now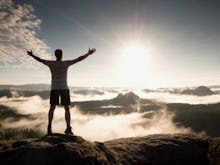 Whether you just got a bonus, pocketed the quarterly dividends on your investments or are finally reaping the financial rewards of eating homemade dinner four nights a week, a little extra money in the bank is a fortuitous opportunity. Sure, you could sock that dough away in a high-interest checking or savings account, but you've got other options for maximizing your money.
A quick Google search will turn up some typical ideas for "what you can do with $1,000," including investing in stocks, creating an emergency fund or paying down debt. These are all solid ways to use an extra $1,000, and perhaps should be the first thing to do with extra money. But what if you already have a fully stocked emergency fund — are already stashing the recommended 10% to 20% of income in a retirement account — and are interested in exploring all your options?
"For some people, saving $1,000 may take an entire year, so paying down debt or adding to your emergency fund makes more sense," Dan Caplinger, a writer and editor at the Motley Fool told Mic by phone. "However, sometimes doing the practical thing isn't that uplifting. It's like being on a diet."
Assuming you don't need to do the "practical thing" and save your money, what else can you do with $1,000 that lets you have fun, improve your life and invest in your future? Here are some clever ideas.
1. Take a risk with your cash
Assuming this is cash that you can afford to lose, how about taking a little risk? The area is still nascent — and thus a gamble — but investing in a small amount of cryptocurrencies like bitcoin or ether could turn out to be a smart bet for the future. After all, buying just $100 in bitcoin just seven years ago could have made you a multi-millionaire today. Yes, you do risk losing your money, but there's always the chance you might see big gains, instead.
For those who are tech-phobic, there are other ways to make an educated gamble. Have a buddy with a budding business idea — but who needs a little capital? Making a small investment in a friend's business can not only pay off, but also supports your friendship, Caplinger said: "Of course it depends on your relationship, but investing in a friend's idea can be a great way to show your friend you support the idea. You need to be prepared to possibly lose that investment money, but if the business takes off, it could pay off in the long run."
Before offering to make the investment, set clear boundaries because an "investment gone bad" can also be a friendship killer. "Make sure you understand that you can lose that money and be okay with that," Caplinger said. "Also, set clear parameters with your friend with regard to what return you could see if the business takes off. If you are giving the money as a loan, state that clearly so there's no misunderstanding, too."
That means both agreeing — in writing — on your percentage stake in the business, given your investment, or if it's money you are lending, the interest rate your friend will pay and the term (length of time) of the loan.
2. Trick out your daily grind
Whether at your workplace or home office, fancy bells and whistles can be fun — but more importantly, some of those "toys" can actually help you to work more efficiently, improving energy levels and productivity. If you dedicate $1,000 toward a few gadgets or tools, you could maximize your workspace, and maybe even net a tax write-off if your employer won't reimburse you.
Want to reduce eye strain, back or arm pain, or discomfort from slouching over a desk all day? Consider investing in some ergonomic equipment, like a high-quality monitor, chair or mouse. Standing desks may also have health benefits. Assuming you don't want to DIY a cheap version for less than $30, you might consider a top-rated option like the WorkFit-S Single LD with Worksurface+ from Ergotron, which runs about $500.
Like to work at night? You might check out a high-rated option like the Logitech Bluetooth K810 illuminated keyboard for $100. And if you are hoping to finally organize your piles of paper, a simple filing system from somewhere like Ikea will set you back less than $100.
Finally, if your computer is slower than dirt, give yourself a treat with a new machine, like a sub-$1,000 laptop, or discounted used option, like a refurbished Apple iPad Air 2, which should set you back less than $500.
3. Invest in your happiness
One great idea: Carpe diem with that $1,000 — and invest in yourself.
Research suggests happiness is more tied to positive experiences than acquiring material "things." That means giving yourself time and a budget for physical activities, seeing concerts or shows with friends or family, and visiting new, exciting places would all be a worthy investment of your hard-earned cash. Sharing experiences also strengthens personal bonds.
So consider something memorable, like taking a hot air balloon ride, gathering friends for an evening in an escape room, planning a road trip to a local area you've never experienced — or even something as zany as showing up at your favorite bar and buying a drink for everyone. Tap into your personal loves and take it from there.
Need more inspiration for ways to spend your cash? Here are some Mic guides to fun places to travel, staycation ideas, gaming, giving to charity and just generally maximizing happiness when you spend money.
4. Elevate your mind
You can't go wrong learning a new language or adding a skill to further your career: Strengthening existing abilities or learning a new field entirely will make you a stronger job candidate. That's especially true if you hope to nab a role in a cutting-edge industry of the future.
Not sure you can plunk down the full $1,000 — or maybe the course you want to take costs even more? You might also check into continuing education programs offered at work, the Seattle Times suggests. Also, research course options that gel with your current work schedule to ensure you can successfully complete the course or certification requirements.
If your employer isn't offering classes, they may offer tuition reimbursement for ones you take at a local community college, online school or trade school. Before you plunk down your money, make sure the school and course will support your goals. If you want to learn a new language, for instance, make sure the course is in line with your current knowledge of the language and will provide you with content to further your skills.
Finally, check out Mic's guide to five affordable classes you can take to seriously help boost your pay.
5. Nurture your health
Healthy people are happier and more productive, according to the Center for Disease Control, so take that $1,000 and dedicate it all toward a healthier, more joyful future. Maybe you have high deductibles to hit before your insurance kicks in? Consider this an investment. Put your cash toward preventative care, like checkups, general doctors' visits and tests you've been putting off due to cost. And consider taking the time and allotting the cash to visit a therapist, particularly if stress or unhappiness is weighing you down.
Finally, consider joining a gym, purchasing a new bike or trying a home delivery food plan that will make your life easier and your diet healthier. Meal plans like Plated or Blue Apron, as well as many others, allow you to select dietary specifics and deliver fresh food, which you cook, directly to your door. Meals cost up to $12 per serving and you can customize the number of nights you want meal delivery.
Sign up for the Payoff — your weekly crash course on how to live your best financial life. Additionally, for all your burning money questions, check out Mic's credit, savings, career, investing and health care hubs for more information — that pays off.