'Final Fantasy 15' Episode Prompto: Update 1.12 release date and everything to know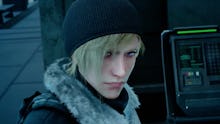 If you've ever wanted to play as the sensitive, photo-loving Prompto in Final Fantasy XV, you'll want to pick up the newly-released Final Fantasy XV: Episode Prompto downloadable content, which has just dropped on the PlayStation Store for North American players.
You'll be able to take control of Prompto himself throughout the additional piece of story content and follow him all the way through a separate narrative centering solely around the golden boy. The new story focuses on his being stranded in an imperial base. Sounds pretty harrowing, that's for sure.
Final Fantasy 15: Episode Prompto: When can you get the DLC?
Episode Prompto is available for download right now from the North American PlayStation Store. It's $4.99 as an individual purchase. If you already bought the season pass for Final Fantasy 15, you'll be able to just go ahead and download it without paying any additional cash. Just make sure you're downloading the DLC that's marked as the free option so you don't accidentally spend the cash twice.
Final Fantasy XV: Episode Prompto: What's next after Episode Prompto?
"Episode Ignis" is the next in the list of planned DLC, and when you complete the DLC for Prompto, you'll get a special teaser trailer of the next episode, which drops in December. If you're interested in checking out what each character has to offer, you'll want to collect all the individual pieces of DLC to piece the entire story together.
If you're interested in seeing the teaser and don't mind spoiling the teaser trailer for yourself, you can check it out below. In the meantime, happy Prompto-ing.
More gaming news and updates
Check out the latest from Mic, like this essay about the sinister, subtle evils lurking in rural America that Far Cry 5 shouldn't ignore. Also, be sure to read our review of Tekken 7 and a piece on the best gaming dads of all time.