Laquan McDonald Shooting: 3 Chicago officers charged with conspiracy in black teen's shooting death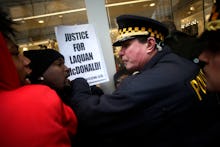 Three Chicago police officers have been indicted on charges related to the alleged cover up of the 2014 shooting death of 17-year-old Laquan McDonald, CBS Chicago reported Tuesday.
Chicago police Detective David March and patrolmen Joseph Walsh and Thomas Gaffney are charged with conspiracy, official misconduct and obstruction of justice, special prosecutor Patricia Brown Holmes announced. The three officers allegedly colluded to prevent an investigation into the Oct. 20, 2014, death of McDonald, the black teen fatally shot by Officer Jason Van Dyke, who is white.
"The indictment makes clear that these defendants did more than merely obey an unofficial 'code of silence,' rather it alleges that they lied about what occurred to prevent independent criminal investigators from learning the truth," Holmes said in a statement, according to CBS.
(Editor's note: The following video contains graphic images.)
The city concealed police dashcam video of the shooting amid an investigation by March that initially cleared Van Dyke of any wrongdoing. The video showed McDonald did not lunge at officers with a knife before Van Dyke opened fire, as originally alleged. March, Walsh and Gaffney allegedly conspired shortly after the shooting to shield their fellow officer from a criminal investigation and prosecution, according to the indictment.
"The defendants allegedly lied about what occurred and mischaracterized the video recordings so that independent criminal investigators would not learn the truth about the killing and the public would not see the video recordings," Holmes said in the statement.
The newly indicted officers are due in court for arraignment on July 10, CBS reported.
Separately, Van Dyke is facing charges that include first-degree murder. As McDonald appeared to be walking away from officers, Van Dyke shot McDonald 16 times. Most of the shots were fired after the teen had fallen to the ground.
Revelations in McDonald's case sparked protests locally and nationwide, many of them under the Black Lives Matter banner. Following release of the shooting video and Van Dyke's indictment in 2015, the U.S. Department of Justice launched a civil rights investigation of the Chicago Police Department.
The DOJ cited officers' unchecked excessive force against residents and racist behavior. Under the leadership of Attorney General Jeff Sessions, it's unclear if the Justice Department will pursue a consent decree agreement with CPD.