'Elite: Dangerous' PS4: PlayStation 4 players join the hunt for the secret of the Thargoid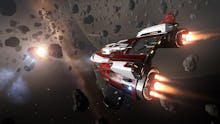 Elite: Dangerous has finally landed for PlayStation 4 owners after previously being available for Xbox One and PC. If you've been patiently waiting for the moment you could join your friends in the wide universe of Elite: Dangerous, today is the day. And it couldn't have come at a better time. Players have discovered some pretty awesome things during their time with the game so far.
PS4 players join the rest of the Elite: Dangerous universe
Eager PS4 owners are now able to start exploring the universe with players on PC and Xbox One, despite the fact that players can't share the same instance of the game. The universe is a shared one, however, and over the last 24 hours players have uncovered a very large map that's hiding several important mysteries, according to Polygon.
After a player with the username Lightningwing made the discovery of a large spiral-shaped structure on a planet near human space, the race was on to try to figure out what it was. It was determined that it belonged to the Thargoids, an alien race in the Elite series found 20 years ago. There were more throughout the galaxy too, but their purpose had been unknown for quite some time.
Since then, players have been visiting structures erected by the Thargoid and trying out different alien artifacts with them to see what might happen. It turns out that if the right players brought the right artifacts to the locations to test things out, there were indeed responses from the environment — namely one that featured a shower of green sparks and a spectrogram that resembled a map.
From there, players plan to work on figuring out what's going on with the Thargoid structures. If you own a PS4, it's time to get in on the fun and help solve this exciting new mystery.
More gaming news and updates
Check out the latest from Mic, like this essay about the sinister, subtle evils lurking in rural America that Far Cry 5 shouldn't ignore. Also, be sure to read our review of Tekken 7 and a piece on the best gaming dads of all time.