Alton Sterling's children sue Baton Rouge over shooting, alleging racism and excessive force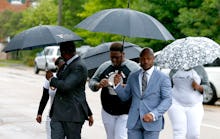 The children of Alton Sterling, the black man fatally shot by a white police officer in Baton Rouge, Louisiana, nearly a year ago, are suing the city, the police department and the officer, the Associated Press reported. The wrongful death lawsuit, filed in a state court on Tuesday, alleges that Sterling's shooting fits a pattern of racist conduct and excessive force by Baton Rouge police.
Baton Rouge police officers have also sent racist text messages to colleagues about people who protested Sterling's death, the family's lawsuit alleges.
"The City of Baton Rouge has a long standing pervasive policy of tolerating racist behavior by some of its officers," the suit says, according to the AP. "There have also been multiple verbal racist comments by officers reported to the department. This tolerance of such behavior directly leads to the mistreatment of individuals of African-American descent."
Attorneys for Sterling's five children said they expect current and former police officers to validate under oath that the shooting was the result of inadequate training and faulty police procedures. "This isn't just lawyers talking and arguing. We have talked to officers who have said something is wrong and it must stop," the Sterlings' attorney, L. Chris Stewart, told the AP.
The lawsuit seeks unspecified damages. Don Coppola, a Baton Rouge Police Department spokesman, declined the AP's request for comment on Tuesday, citing the pending litigation.
(Editor's note:The following video contains graphic images.)
On July 5, Officers Blane Salamoni and Howie Lake II encountered Sterling, 37, after they were called to a Baton Rouge convenience store to investigate reports of a man with a gun. Following a brief struggle with Sterling, Salamoni shot him six times. The officer told investigators that he believed Sterling was reaching for a gun.
Video of the incident was captured on bystanders' cellphones. Before the shooting, Sterling had reportedly been selling homemade CDs outside of the convenience store.
In May, the U.S. Department of Justice declined to file criminal civil rights charges against Salamoni or Lake. There wasn't enough evidence to support the idea that either officer acted unreasonably, acting U.S. attorney Corey Amundson said during a news conference on May 2.
Louisiana Attorney General Jeff Landry is reviewing the case to determine if state criminal charges will be filed against Salamoni and Lake.
Regardless of what happens in the state review, the Sterling family's lawsuit is meant to bring about changes in the police department, attorney Michael Adams told the AP. "We can't do anything to bring Alton Sterling back," Adams said. "This is about his children and this is about bringing this community together."