'League of Legends' Kayn and Rhaast: Meet the new human-demon champion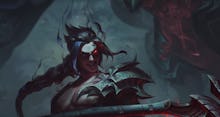 League of Legends has welcomed a brand-new champion, though this one is unique as it's two characters in one. Kayn and Rhaast are actually considered one character; however, they're a human-demon hybrid named Kayn and Rhaast. To be specific, Kayn is a shadow assassin who wields a scythe possessed by a Darkin. That's Rhaast.
Both of them totally look like they're shrouded in darkness at all times, and we can get behind that — especially with how cool they look. They've got some pretty interesting abilities hidden behind their cryptic exterior, too.
League of Legends Kayn and Rhaast: Abilities and what you need to know
Kayn and Rhaast are locked in combat with the other throughout each match. Rhaast is constantly looking to earn enough power to overtake Kayn, and if he can do that, he can take over Kayn's body to blast enemies with demonic powers.
The two have completely different powers depending on who's in control, and it's an extremely unique dynamic for League of Legends, especially since their abilities will change depending on which character is currently in control. You'll be able to use the Darkin Scythe as the passive ability, but utilizing Kayn and Rhaast is definitely going to be a feat advanced players will want to practice up with.
The patch introducing Kayn and Rhaast hasn't yet hit the Public Beta Environment yet, but this teaser is good enough for players hungry for new League of Legends champions. It looks like it's a two-for-one sale on Champions this time around, albeit in a roundabout way.
More gaming news and updates
Check out the latest from Mic, like this essay about the sinister, subtle evils lurking in rural America that Far Cry 5 shouldn't ignore. Also, be sure to read our review of Tekken 7 and a piece on the worst gaming dads of all time.