Hate crimes reporting is on the uptick, new DOJ report shows, but more than 50% still go unreported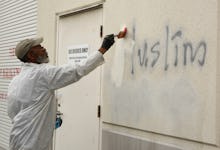 For over a decade, U.S. residents have experienced a quarter million hate crime incidents on average each year, and the majority of them went unreported to law enforcement. However, hate crime reporting by victims appears to be on the uptick, according to a new analysis by the federal Bureau of Justice Statistics.
In a report released Thursday, BJS indicated that a lower percentage (54%) of hate crimes went unreported to police during the 2011 to 2015 period than compared to the 2007 to 2011 period (64%), Lynn Langton, chief of victimization statistics at BJS, confirmed to Mic via email.
The hate crime victimization rate was 0.7 hate crimes per 1,000 people age 12 or older between 2004 and 2015. Racial bias was the most common perceived motivation for hate crimes between 2011 and 2015, analysts found.
"The most common reason for not reporting violent hate crime to police was that the victimization was handled another way (44%), such as privately or through a non-law enforcement official, followed by not important enough to report (20%)," a statement about the analysis reported.
This is the first hate crimes report released by the BJS under the Trump administration, which came to power vowing to shift resources away from the federal government's civil rights enforcement functions and toward combatting other violent and drug-related crimes. The new report does not account for a startling increase of hate crimes against Muslims in 2016, which some advocates have attributed to President Donald Trump's rhetoric and travel ban targeting six Muslim-majority nations.
But in a speech delivered Thursday, Attorney General Jeff Sessions championed the efforts of the Department of Justice to address hate crimes. Sessions told federal prosecutors gathered for a hate crimes summit in Washington, D.C., that he'd personally met with personnel in the DOJ's Civil Rights Division to discuss a spate of fatal shootings around the country of transgender individuals.
"No person should have to fear being violently attacked because of who they are, what they believe, or how they worship," Sessions said. "So I pledge to you: As long as I am attorney general, the Department of Justice will continue to protect the civil rights of all Americans — and we will not tolerate the targeting of any community in our country."
Kristen Clarke, president and executive director of the Lawyers' Committee for Civil Rights Under Law, a Washington-based advocacy group, said Thursday that Sessions' remarks do not go far enough and ignore the administration's policies that negatively impact the lives of "African-Americans, Latinos, and other communities of color, Muslims, LGBTQ communities, immigrants, and refugees."
"While it is critical that the Department of Justice redouble its commitment to effectively investigate and prosecute hate crimes, any actions it takes must be understood in the context of the policies and positions that the [DOJ] has taken that promote the marginalization of minority communities and contribute to a climate of fear and hate," Clarke said in a statement.
The Council on American-Islamic Relations, a prominent Muslim civil rights group, said it counted 2,213 anti-Muslim incidents in the U.S. in 2016. According to CAIR's report, titled "The Empowerment of Hate," anti-Muslim bias incidents rose 57%, up from 1,409 reported incidents in 2015.
Langton and her team made several other observations in the analysis of 2011 to 2015 data: 99% of victims reported that the offender used hate language during the incident; 5% of offenders left hate symbols, victims said; and 46% of violent hate crimes victims said the offender was a stranger.
The report's findings come from BJS' National Crime Victimization Survey, which collects data on reported and unreported hate crimes that victims perceived as motivated by race or ethnicity, gender or gender identity, religion, disability and sexual orientation.
It differs from the FBI's Hate Crime Statistics report, which includes hate crimes against people and property, and relies on police departments to self-report confirmed hate crimes to the agency's Uniform Crime Reporting Program. The FBI's latest report showed there were 5,818 single-bias incidents perpetrated against 7,121 victims in 2015. Of those victims, 59.2% were targeted because of their race or ethnicity, 19.7% because of religious bias, and 17.7% because of a bias against the victim's sexual orientation.
Although the FBI puts out a hate crimes report annually, it could be several years before the BJS releases a hate crimes analysis that reflects the tumultuous and culturally divisive 2016 election season.
June 29, 2017, 12:42 p.m. Eastern: This story has been updated.