4th of July 2017 guide: Fireworks, sales, celebrations and last-minute hacks to ball out on a budget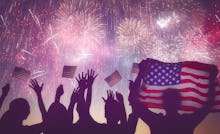 Just because you're on a budget doesn't mean you have to resort to celebrating Independence Day with last year's sparklers and cheap meat on a discount bun. You can have a baller Fourth of July regardless of the amount of money you have in your pocket — or whether you had the forethought to make plans. All you need is to tap into your creative side.
No matter how hard you try to keep your money monster under control, it's easy to get financially carried away on Independence Day. In fact, Americans plan to spend $7.15 billion on food alone this Fourth of July, WalletHub reported. Plus, at least 44 million Americans are expected to travel this July Fourth, with 84% road tripping to their destination.
So how should you plan your July Fourth celebration? First, review your budget to figure out how much cash you can responsibly spend. Next, think about what activities you enjoy doing — then amp it up with some ideas that will add a little color and flavor to your celebration. Whatever you do, don't stay locked away alone at home! Here are nine ideas to inspire you.
1. Tour a historic spot near local fireworks
Visiting a historic destination is one way to soak in this patriotic day without having to drop a lot of dough. Check out local monuments, historic homes or institutions before heading to the local fireworks display.
Some examples? If you are in New York for Macy's Fourth of July Fireworks, check out Hamilton Grange, home to founding father Alexander Hamilton, or Federal Hall, which was the nation's first Congress in New York City. In Washington, D.C., you can't go wrong with the National Mall, where you can explore the Lincoln Memorial, or the Museum of Natural History, which is open late until 7:30 p.m. on Independence Day. And if you're in San Diego, check out the San Diego Presidio, dedicated to the local Spanish and Mexican heritage before taking in the Big Bay Boom.
2. Party like its 1776
It's never too late to throw a last-minute party! Your friends, neighbors or family without plans will thank you — and it's cool if it's an intimate affair. Spice up the standard barbecue with your own creative ideas. For fun food ideas, hit up Pinterest or College Party Guru for drink recipes that stretch your dollar. Here's a fun one: Make a red, white and blue July Fourth layered drink with cranberry juice, white Sobe Pina Colada flavored drink and blue G2 Gatorade. Add vodka to transform it into an adult beverage.
Get a little more nutty and make it a costume party, especially if you're partying with a bunch of history buffs. You can even come as your favorite Founding Father or Mother! If your group likes to play games, add a twist to the average backyard game. For instance have a two-legged race, tying racer's legs together with rope licorice instead of regular string. See how long it takes for the pair to bust through the candy when they run.
You could even hold a patriotic scavenger hunt where guests can answer funky trivia questions about July Fourth to earn prizes, like $5 gift cards or food. Quick, can you name which three presidents died on July Fourth — or which president was born on Independence Day?
3. Load up on 4th of July sales
If you missed the Memorial Day sales, don't fret — Independence Day can satisfy that unfulfilled need. Not only is the Fourth of July a day to celebrate your patriotism, it's a well-known day for big discounts.
July is ripe if you want to buy swimwear and a window air conditioner, in particular. Bargains can also be found on clothing, outdoor gear and grills. But hold off on electronics as shoppers historically found a better deal later in the summer, Deal News says.
Where to start? Score up to 60% off at Old Navy, up to 65% off at JCPenney and up to 60% off clothing, jewelry and shoes on Amazon. Get 25% to 70% off clearance items at Macy's and up to 70% off 700,000 deals at Overstock.com. Rideshare company Lyft is also offering a $50 free credit during the July Fourth weekend. (Prices and deals may be subject to change.) Happy shopping!
4. Get out of town
Make that last minute getaway happen using Trip Advisor's list of 15 July Fourth trips for less than $50 per night. In fact, you can still score a two-bedroom rental for as low as about $30 per person, per night in sweet locations like Hilton Head, South Carolina or Big Bear Lake in California. You could even have fun with your trip and write the name of several destinations on scraps of paper, put them in a hat and draw one. That's where you'll go!
Save money by traveling with your squad and look for properties that offer multiple bedrooms and a number of amenities, Laurel Greatrix, spokesperson for TripAdvisor Rentals suggested by email. For road trip warriors, avoid peak travel times by driving early in the morning or late at night, avoid filling up your gas tank on state lines as fuel tends to be more expensive and try to pay for gas with cash — as you may be able to ask for a discount that way, CNBC says.
5. Hit local parades, community events and concerts
Just about every town in America is celebrating the birth of our nation, so check your local newspaper, city website or community center for a list of activities and events. If you live near Savannah, Georgia, for example, you can find fireworks and blues, jazz and barbecue. Enjoy a fireworks cruise in Santa Barbara, California, for about $50 per person or dig some barbecue at the Phoenix Zoo in Phoenix, Arizona. And if you travel to Martha's Vineyard for July Fourth, don't miss the historic Independence Day Parade in Edgartown, Massachusetts.
Tired of your hometown? Rather than going to the same old parade or event locally, take a day trip to a nearby town or city to see how they do July Fourth festivities. And pack a cooler of favorite healthy snacks and beverages to cut down on the temptation to pay for overpriced street meat and soft drinks from vendors catering to tourists.
6. Take your fun indoors
Planned an idyllic July Fourth, but the weather isn't cooperating? You don't have to give up due to extreme heat or rain, just bring your fun inside. If you were banking on a picnic? Not to worry, you can still have your picnic, just bring it into your living room. Lay down a blanket, invite over a friend or three and don't forget the picnic basket — filled with food like fried chicken and potato salad. For some extra fun, these patriotic picnic ants can recreate the great outdoors, minus the nuisance.
Other indoor fun includes watching July Fourth inspired films like Independence Day or Born on the 4th of July or playing board or drinking games. You can also get out of the house, armed with umbrellas, for a pub crawl or to catch a local musical artist. Want to do something really patriotic? Gather friends to start a letter writing campaign to enlisted military troops.
7. Blow stuff up (safely)
Fireworks are a traditional part of the Independence Day and purchasing them can really add up. At this point it's probably too late to order them online but you can still get a decent deal at retailers like Walmart or even at a roadside vendor. The best priced fireworks include Phantom's Dragon Slayer at $9.99 or TNT's Cool Breeze at $3.99, the Sacramento Bee reports.
If you plan to DIY your fireworks display, take smart steps to staying safe. Important measures include only purchasing legal fireworks and obeying state and local laws, following directions on the fireworks package and only lighting fireworks outside, the National Council on Fireworks Safety says. You can opt for "green fireworks," which are nitrogen based, and less harmful to the planet.
8. Run or walk your way to "independence"
Whether you are a runner or not, starting your day with a July Fourth fun run —or walk — will kick off Independence Day right. A number of communities and cities hold short distance July Fourth runs: Find a race near you here. The average cost to register for a 5k can run anywhere from $20 to $50 depending upon your location.
And while running a race can be fun, so can dressing up in a patriotic costume for the race or loading up your iPod with patriotic tunes. While it may be tempting to run with a sparkler in your hand, resist the urge. Doing so will probably get you bounced from the run.
9. Exercise your freedom of speech
In the true spirit of Independence Day, exercising your freedom of speech and expression is more important than ever — no matter your political views. You might let your voice be heard by starting a petition to ask your elected officials to hold a town hall to hear their constituents' concerns during the holiday week about health care, immigration and other vital issues, Joshunda Sanders, director of communications for Change.org suggested by email. Best of all, it's absolutely free to create a petition.
And while Congress is on recess for all of August, not to mention several other weeks throughout the year, you can still leave messages to your representative voicing your views on key issues.
Want to get others involved? Moveon.org has a number of community cookouts planned in hundreds of cities on July 1 through July 3 to discuss action topics for Congressional recess and what to do when Congress returns.
You can't get much more patriotic than exercising your constitutional right to speak out about what matters to you: Just make sure to take a few moments to enjoy the fireworks and celebrate our nation's 241st birthday while you're at it.
Sign up for The Payoff — your weekly crash course on how to live your best financial life. Additionally, for all your burning money questions, check out Mic's credit, savings, career, investing and health care hubs for more information — that pays off.