Bay Area paper outs officers at center of the Oakland Police Department sexual assault scandal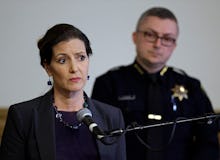 For the past two years, the moniker "Celeste Guap" has become infamous in and around Bay Area police circles. It's the alias used by a woman who says that she was sexually exploited and trafficked by officers.
Now, thanks to new reporting by Darwin BondGraham at the East Bay Express, an Oakland-based weekly, has published the names of several police officers who are reported to have interfered in the investigation into the case, even blaming Guap for her own abuse and sitting by idly while key evidence in the case was destroyed.
The officers at the center of the scandal and cover-up, and named by the paper, include Deputy Chief John Loism homicide detectives Jason Anderson and Bradley Baker, Lt. Roland Holmgrenm who led the homicide unit, Lt. Trevelyon Jones who led OPD's internal affairs investigations, and Sgt. Paul Bernard, who oversaw the SVU vice/child exploitation unit at the time. Sean Whent, who was chief of police at the time of the scandal, eventually resigned.
BondGraham and another reporter Ali Winston first reported about the scandal back in 2016, the sordid details of which are laid out in a series of explosive stories. The short story goes like this: in September 2015, an Oakland Police Officer named Brendan O'Brien committed suicide. He left a note detailing multiple sexual assault allegations against several fellow officers, who were later found to have trafficked the then-unidentified victim, Guap, who says that she was trafficked by more than 30 police officers across several different Bay Area departments.
As if the trafficking itself weren't bad enough, the attempted cover-up seems even worse. A court-appointed investigator's report found that the Oakland Police Department's investigation into its own officers to be "wholly inadequate." Officers failed to follow-up on promising leads, blamed Guap for O'Brien's suicide, and even stood aside and watched as she destroyed crucial evidence.
"The victim later identified both of these tactics as ones that made her disinclined to share information," the attorneys concluded in the report. "She felt the investigators implied she would not be believed, and if she were, she would cause additional officers to hurt themselves."
This had a devastating effect on the case. "At virtually every stage, OPD commanders and officers took steps to downplay the allegations, ignore evidence and leads, and prematurely close the case," BondGraham writes in the East Bay Express. "They also disrespected the victim, who was 18-years-old at the time, but was exploited by multiple cops when she was a minor, and treated her with hostility.
What makes this story even more heartbreaking is that Oakland is already home to what some have called an "epidemic" of sex trafficking. It's hard to get a definitive number of sex trafficking victims because so few come forward, but in 2012 there were an estimated 20.9 million human trafficking victims worldwide, according to the International Labor Organization. Each year, at least 100,000 children under the age of 18 are prostituted in the United States, while up to 325,000 are at-risk for commercial exploitation. Since 2011, 46% of all prosecuted human trafficking cases in California come from the Alameda District Attorney's office.
Mic has reached out to the Oakland Police Department for comment on the report, but hasn't heard back.