SNES Classic Stock: Should be easier to find than the NES Mini or even the Switch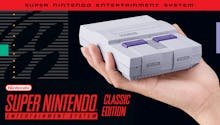 If you're concerned you won't be able to get your hands on a Super NES Classic, rest assured. This wave of miniature home consoles with classic games looks to be a whole lot more attainable than the NES Classic, or even the ridiculously popular Nintendo Switch. If reports out of France are to be believed, there's plenty to go around. Hopefully that extends to Western potential buyers as well.
SNES Classic: French stock tells an important story of stock
According to NintendHOME, France will have 160,000 unit available, compared to the NES Classic receiving 84,000 units in total between the system's launch and February 2017. Comparatively, the Switch only got 105,000 units available at launch. For an initial shipment of 160,000 units, that seems like French gamers should have plenty of SNES Classic units to go around. Amazon, Auchan and FNAC as NeoGAF states have sold out already.
Of course, initial shipment of units is only one part of the equation. There can be tons to go around at the beginning, but if Nintendo doesn't plan on replenishing its stock throughout the rest of the year after a large offering at first, it could still mean fans will find difficulty picking up units if they miss the initial shipment.
There hasn't been any official word on how many systems will be going out in North America just yet, but with buyers ready to pounce at any given moment, hopefully those planning on scalping systems don't snap up every single last one.
More gaming news and updates
Check out the latest from Mic, like this essay about the sinister, subtle evils lurking in rural America that Far Cry 5 shouldn't ignore. Also, be sure to read our review of Tekken 7 and a piece on the worst gaming dads of all time.