'Monopoly Gamer Edition': Nintendo's Super Mario puts a new twist on the classic board game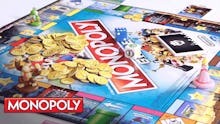 Hasbro is bringing a special version of its classic Monopoly game out based on familiar characters like Mario, Donkey Kong, Princess Peach and Yoshi. It's labeled as the Monopoly Gamer Edition, though it focuses more on the Mario universe than anything else. It's based on a partnership between Nintendo and Hasbro and is meant to be more "appealing" to gamers.
It's more than just a reskin, however, with players competing to "complete levels" and pick up coins on their way around the board instead of buying property and taking cash from other players when they land on said property. In this, it's different than the Pokémon Monopoly or even Monopoly you might have purchased before.
Monopoly Gamer: Everything that's different from regular Monopoly
Hasbro has announced that, in addition to having players finish levels and level up, the game will have you collecting coins and even picking up power-ups to help you complete boss battles and "legendary bosses," most likely Bowser and his clan.
Power-ups will be handled by a completely separate die and will offer cash boosts and rewards for players who pick up spaces around the board. Every character in-game will also have their own special power-up, which you can see in action in the video Hasbro created to better explain how the game will work.
There's even additional characters coming down the pipeline for the game, presumably different games in the future too, but right now you'll be able to buy "power packs" when the game comes out with characters like Luigi and Rosalina for $2.99 apiece.
There's a regular and Collector's Edition by way of GameStop for $39.99 which comes with Bowser, while the regular edition goes for $24.99. It's an intriguing remix of traditional Mario play, that's for sure. The game doesn't hit store shelves until August, but you can check out the board above ahead of its release. Make some time in your schedule to hang out with your family and check it out!
More gaming news and updates
Check out the latest from Mic, like this essay about the sinister, subtle evils lurking in rural America that Far Cry 5 shouldn't ignore. Also, be sure to read our review of Tekken 7 and a piece on the best gaming dads of all time.