Why many "lawful" Mexican immigrants don't become US citizens, even when they're allowed to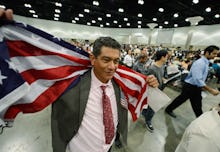 New research shows a trend among a segment of Mexican immigrants living in the United States that may surprise many people.
Pew Research data released Thursday shows green card holders from Mexico are among the least likely eligible foreign nationals to apply for U.S. citizenship.
The new study combined 2015 Pew survey data, which included a sample of 1,500 U.S. Latinos, with available U.S. Census data, according to Pew.
Researchers estimate that 11.9 million of the nation's 45 million immigrants in 2015 were green card holders, which means they possessed lawful permanent residence status. A majority of those green card holders, 9.3 million, met the eligibility requirements to apply for U.S. citizenship, including length of residence — yet had not become U.S. citizens.
"Mexicans made up 37% of this group and constituted the single largest group of green card holders without U.S. citizenship by country of origin," the study authors wrote.
Mexicans immigrants have ranked among the lowest in terms of naturalization for years, according to Pew. Their naturalization rate increased slightly between 2011 and 2015 — from 38% to 42% — but it pales in comparison to the rate for all non-Mexican immigrant groups, which went from 72% to 74% over the same period, researchers found.
"It's clear that Mexicans are still lagging behind the rest of immigrants in terms of naturalization rates," senior Pew researcher Ana Gonzalez-Barrera, who co-authored the study, said.
Why not become a citizen?
When asked why they chose not to become U.S. citizens, most Mexican green card holders cited their own inadequate English skills and the cost of the U.S. citizenship application, according to Pew.
"One of the main reasons they gave was language. not knowing enough english, but also being afraid of taking the tests for naturalization," Gonzalez-Barrera said. "We saw a lot of people were saying, 'I just haven't had the time yet. I work a lot.'"
None of this is surprising to Latino immigration advocates like Natalia Aristizabal, co-director of organizing for Make the Road New York, who says these barriers to legal immigration have persisted for decades.
Obstacles to citizenship
Most Latinos who legally immigrate to the U.S. from Mexico and other Latin American countries come here on temporary or permanent work permits, which typically require them to live here a minimum of 10 years before they can apply for a green card, according to Aristizabal.
"It depends on the country you come from," Aristizabal said. "After they get their green card, it takes five years to become eligible to apply for citizenship. Mexico is the country that has to wait the longest."
That's a minimum of at least 15 years living in the U.S. before one is eligible to apply to become a citizen — the cost of which goes up every year, Aristizabal said.
"About two years ago it was like $500; now it's about $800," she added. "My understanding is it's going to continue to up... We're talking about people who are heads of households who may be getting $35,000 to $40,000 a year, but you have a family of four or five. That isn't a lot."
These are the reasons advocates have pushed for comprehensive immigration reform. The American economy depends on immigrants, but the federal government hasn't passed a comprehensive immigration law since 1990.
"At the end of the day it's a lot of effort to be part of a system that tells you, 'We don't want you here,'" Aristizabal said, though she also noted that becoming a citizen does hold significant benefits.
"When you become a citizen, you can be here with less fear. If you're a green card holder, you're still deportable, but if you're a citizen, you aren't."