Trump to meet Putin at G-20 summit in Germany next week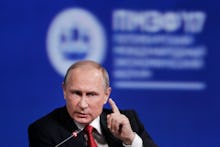 President Donald Trump will meet with Russian President Vladimir Putin next week, the Associated Press reported on Thursday afternoon.
The meeting will come at the G-20 summit in Hamburg, Germany, AP reported.
Trump will also meet with other world leaders, national security adviser H.R. McMaster said.
Neither McMaster nor economic adviser Gary Cohn would say whether Trump plans to address the alleged hacking of the 2016 U.S. presidential election by Russia and Putin's alleged involvement in it, though McMaster did say that Trump plans to address "irritants" to the U.S.-Russia relationship with Putin.