'Crash Bandicoot N. Sane Trilogy' review roundup: Here's what the critics are saying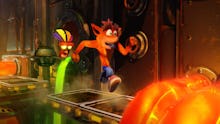 Crash Bandicoot has made his triumphant return to consoles in the form of the Crash Bandicoot N. Sane Trilogy. It's not a brand-new Crash adventure, but it's certainly something to help tide fans over until that illustrious day comes along. The critics have already had their fill of Crash's latest outing, and the word is out that this is definitely a collection of games fans will want to get their hands on. Here's an idea of what the critics think about Crash's PlayStation 4 debut.
Crash Bandicoot N. Sane Trilogy review roundup: Critical feedback
GamesBeat's Mike Minotti thinks you'll "smile like an idiot" even if you've never played these classics before, stating that the updated graphics "are a great excuse to see why so many people cried when Crash went away in the first place." Minotti scored the game 90/100.
TheSixthAxis' Jim Hargreaves was pleased with the collection, stating that "Two decades later, it's great to see that some things never change." He was glad to see that the game is "exactly how fans envisioned it," lauding Vicarious Visions for pulling it off with "such diligence, infused with a streak of their own creativity." Hargreaves score the game 9/10.
IGN's Jonathon Dornbush praised the game for its "incredible visual and aural overhaul" and the "gameplay tweaks to earlier entries, like time trials and crate counters. ... Those additions make the overall package so much more cohesive while never forgetting what made, and what still makes, so much of Naughty Dog's original trilogy a blast to play." Dornbush scored the game 8.5/10.
GameInformer's Andrew Reiner found that the games were a "fascinating (and fun) look back at the early days of 3D platforming" no matter if you're " running from a boulder or riding on a polar bear." Reiner scored the game 8/10.
Destructoid's Chris Carter found himself missing CTR: Crash Team Racing, but discovered that this trilogy "serves as a time capsule of sorts before the series was ran into the ground." Carter scored the game 8.5/10.
GameSpot's Peter Brown was enthusiastic about the collection but noted that the games still feel quite old — they're showing their age, as he noted. He stated that it "gives three classic games a fresh coat of paint, but there's no mistaking that they're old at heart." Brown scored the game 6/10.
If you're an old Crash fan looking for something great to play this holiday weekend, it looks like the verdict is in — pick up a copy of Crash Bandicoot N. Sane Trilogy to try it out for yourself.
More gaming news and updates
Check out the latest from Mic, like this essay about the sinister, subtle evils lurking in rural America that Far Cry 5 shouldn't ignore. Also, be sure to read our review of Tekken 7, an article about D.Va's influence on one Overwatch player's ideas about femininity and an analysis of gaming's racist habit of darkening villains' skin tones.