Kendall and Kylie Jenner apologize for "disrespectful" T-shirt line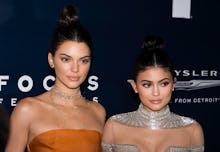 The Jenner sisters are no strangers to making headlines.
In the past, both Kendall and Kylie Jenner have been accused of cultural appropriation, which made their decision to superimpose their own faces onto the faces of legendary black rappers on their new T-shirt line all the more confusing.
On Thursday, the sisters launched their new vintage band T-shirts, Mic reported, which featured images of the sister's faces over famous designs from Led Zeppelin and Metallica, as well as the faces of Tupac and Biggie. The T-shirts, which features 15 different designs, sell for $125, Vanity Fair reported.
Almost immediately after the line's release the internet erupted with anger over the images.
Perhaps the most impactful voice was that of Voletta Wallace, Biggie's mother, who took to Instagram to express her dismay over the line's use of her son's image.
"The disrespect of these girls to not even reach out to me or anyone connected to the estate baffles me," Wallace wrote on Instagram. "I have no idea why they feel they can exploit the deaths of [Tupac] and my son Christopher to sell a t-shirt. This is disrespectful , disgusting and exploitation at its worst!!!"
Following Wallace's statements on Instagram both Kendall and Kylie Jenner shared an apology to their individual social media accounts.
"These designs were not well thought out and we deeply apologize to anyone that has been upset and/or offended, especially to the families of the artists," the Jenner's joint statement read. "We are huge fans of their music and it was not our intention to disrespect these cultural icons in any way. The T-shirts have been pulled from retail and all images have been removed. We will use this as an opportunity to learn from these mistakes and again, we are very sorry."
In response, Biggie's estate told People: "While we appreciate that the Jenners have made an apology and pulled the unlawful and unauthorized items, this matter has yet to be resolved."
Still, the apology come as somewhat of a surprise for the two sisters, who have never apologized for cultural appropriation in the past, including Kendall Jenner's deafening silence following both her infamous Pepsi ad — which Pepsi did apologize for — and her involvement in the equally scandalous Fyre Festival. Only Bella Hadid apologized for that disaster.
July 3, 2017, 8:27 a.m.: This post has been updated.