Temperatures in Iran reached 129 degrees Thursday, marking one of the hottest days ever recorded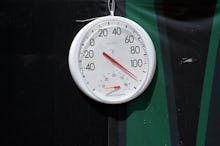 On Thursday, a city in southwest Iran broke a record that nobody else would ever want to match.
According to Weather Underground the temperature in the city of Ahvaz hit 129.2 degrees at both 4:51 p.m. and 5 p.m. local time.
As USA Today reported, that scorching hot reading is Iran's highest temperature ever recorded and is the highest June temperature for all of Asia on record. But even more impressive is that the extreme temperature may be one of the world's hottest reliably measured temperatures ever.
The temperature, if verified, will rival the two hottest measured air temperatures ever recorded, according to Weather Underground.
On, July 21st, 2016 the observed temperature in Mitribah, Kuwait, measured in at 129.9°F. That temperature reading tied a reading at Death Valley on June 30, 2013.
However, the Weather Underground noted, hotter temperatures have been reported around the globe, but those temperatures have not been verified and face some credibility issues, including the official all-time world record of 134 degrees, which was recorded in Death Valley, California on July 10, 1913.
Experts, including Weather Underground weather historian Christopher Burt, say that temperature cannot be valid. As Burt said in 2016 such a high temperature would "not possible from a meteorological perspective."
Fortunately for the people living in Ahvaz, the temperatures are expected to drop to a downright chilly 119 degrees by Friday.