Eric Dreiband picked to lead DOJ's civil rights division — here's a look at his record on equality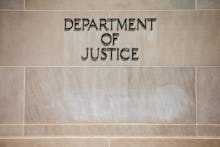 Eric Dreiband, a former general counsel of the U.S. Equal Employment Opportunity Commission, was nominated Thursday as the next head of the Justice Department's Civil Rights Division. His selection has rung alarms among civil rights groups concerned that Dreiband's private-sector work betrays his record in anti-discrimination in the workforce.
As an assistant attorney general for civil rights, Dreiband would be charged with enforcing U.S. laws aimed at promoting fairness and justice. He would be responsible for guarding against discrimination in the workplace, preserving voters' access to the ballot box, punishing hate crimes and reforming abusive police departments.
For much of his private-sector career, Dreiband defended corporate clients who were accused of employee discrimination, which activists argued is one of many issues that would contradict his role as chief enforcer of Title VII of the Civil Rights Act of 1964.
"The head of the Civil Rights Division must be an advocate for the most vulnerable among us — someone deeply committed to protecting the rights of all Americans," Sherrilyn Ifill, president and director-counsel of the NAACP Legal Defense and Educational Fund, said in a statement released Friday. "Eric Dreiband's civil rights record is the opposite."
Ifill is among a handful of prominent civil rights leaders urging the U.S. Senate, which must approve Trump's pick, to either scrutinize Dreiband's record or reject his nomination outright. Representatives of the American Civil Liberties Union and the Leadership Conference for Civil and Human Rights cited Dreiband's defense of CVS Pharmacy and R.J. Reynolds Tobacco Company against allegations of racial and age discrimination, as well as Bloomberg against a complaint alleging pregnancy discrimination.
Following his stint at EEOC, Dreiband, a George W. Bush appointee, testified against the Lilly Ledbetter Fair Pay Act aimed at ending pay discrimination against women. He was also an outspoken critic of former President Barack Obama's guidance on "ban-the-box," a policy removing questions about a job seeker's criminal history from federal employment applications. Most recently, Dreiband filed lawsuits on behalf of employers opposed to the contraception coverage requirement under the Affordable Care Act and argued on behalf of the University of North Carolina in a challenge to a state law meant to restrict transgender individuals' access to restrooms.
But beyond his labor law experience, Dreiband seems inadequately versed in other aspects of civil rights advocacy, Vanita Gupta, former acting head of the Civil Rights Division under Obama, said Thursday. "He has no known experience in most of the Civil Rights Division's core issue areas, such as voting rights, police reform, housing, education, and hate crimes," Gupta, who is now president and CEO of the Leadership Conference, said in a statement. "He is the wrong person for the job."
According to an EEOC press release about his start at the commission in 2003, Dreiband was born and raised in Indiana and earned degrees from Harvard University, Princeton University and the Northwestern University School of Law. Prior to the EEOC, he was deputy administrator in the U.S. Department of Labor's wage and hour division. But Dreiband's private-sector role as a partner in the Washington, D.C.-based law firm Jones Day, where he has represented corporations accused of employee discrimination, seemed to be what concerned most of his critics.
A colleague of Dreiband's at Jones Day declined comment about his nomination on Friday.
Kristen Clarke, president of the Lawyers' Committee for Civil Rights Under Law, said Thursday that Dreiband seemed to be in line with an effort by the Trump administration to de-emphasize social justice causes. "Under Attorney General Jeff Sessions' leadership, we have seen a retreat at the Justice Department away from civil rights enforcement that is deeply troubling for minority communities," Clark said in a statement. "Millions of Americans gripped by the rise in racially motivated hate crimes, voter suppression and an unfair criminal justice system are watching.
Dreiband's nomination was sent to the U.S. Senate for confirmation. As of Friday, it was unclear when senators would schedule a vote.