Financial aid FAFSA deadline: Today's your last chance for almost $10K off 2016-2017 college tuition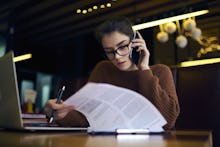 Already dragged down in debt from last year's college tuition bill? There is good news for those dealing with the high costs of education: Friday, June 30, is the last day you can still file the Free Application for Federal Student Aid, which can produce up to $10,000 in loan and grant aid for the 2016 to 2017 school year.
Applications must be submitted by Saturday, July 1, at 1 a.m. Eastern for funds that can be applied retroactively to the past school year, CNBC reports. That means if you procrastinated filing for last year, you still have a few hours to file your application and cover more of your costs. Those looking to the 2017 - 2018 year can also file, but that deadline isn't until June 30, 2018, so you have more time on that front.
For those who need to file today? Don't wait until later tonight, CNBC advises.
You'll need to create a FSA ID and produce documents like a parent's Social Security number if you are a dependent, federal tax information and records on untaxed income and assets — so you will want to get your hands on that paperwork as soon as possible. Also, completing and reviewing the application itself takes at least a few hours, so don't wait until 11:30 p.m. to start, or else you might miss the deadline.
Missing the deadline is no small potatoes: You could leave as much as $9,740 on the table, according to a study published in Research in Higher Education. Included in that total amount is more than $1,000 in Pell Grants and $1,000 in institutional grants.
Even though filing a FAFSA sounds like an easy way to secure college funding, approximately 20% of undergraduates don't bother, the U.S. Department of Education reports. Many who didn't file did not think they qualified, Time reported, or they had no concept of what "financial aid" even meant.
How to reduce college costs in general
As college costs continue to rise at a rapid pace, especially at private institutions, students cannot afford to ignore opportunities for aid. Some strategies to help make the student loan process easier and slash college expenses generally include: meeting face-to-face with a student loan officer, buying used books, and paying student loan interest early. You can also reduce college costs by taking Advanced Placement courses in high school (if you haven't yet graduated) or considering an International Baccalaureate program. Both pathways allow you to earn college credit while you are still in high school.
Another suggestion? Check out schools overseas where the tuition is more affordable. Countries that offer free or "almost free" college include Finland and Panama, but be sure to review the standards of living before you commit to free or cheap tuition — to make sure you aren't moving somewhere where the cost of living is too high.
Sign up for The Payoff — your weekly crash course on how to live your best financial life. Additionally, for all your burning money questions, check out Mic's credit, savings, career, investing and health care hubs for more information — that pays off.