Here are the candidates squaring off to replace Utah Rep. Jason Chaffetz in Congress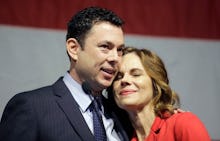 Controversial Republican lawmaker Jason Chaffetz is off to work at Fox News and finish writing his new book after officially resigning from Congress on Friday.
He leaves a field of four notable Utah contenders — three Republicans and one Democrat — vying to fill the now-vacant congressional seat Chaffetz occupied since 2009.
The special election to replace Chaffetz is set for Nov. 7. The field of would-be legislators included 22 candidates as recently as May.
The narrowed cast of four includes a former state lawmaker, a physician, a mayor and the son of an NBA team president.
Chris Herrod
The former real-estate developer and Utah House member secured the Republican nomination to replace Chaffetz on June 17. Herrod defeated a field of 10 other conservatives at the party's special convention in Provo, which was attended by 800 GOP delegates and included five rounds of voting.
He overcame the odds to defeat highly touted contender Deidre Henderson, who was favored to win the party's nomination.
Kathryn Allen
The only Democrat in the race, Allen initially launched a long-shot bid to unseat Chaffetz in the 2018 Congressional midterms, before Chaffetz announced he was quitting Congress.
Allen's candidacy received a huge fundraising boost in March when Chaffetz told CNN's New Day that low-income people should sacrifice buying iPhones to pay for their own health care coverage.
Allen pointed out on Twitter that Chaffetz's own iPhone was paid for by donors.
While she's considered a long shot, Allen is the latest Democratic contender to try turning a red district blue amid President Donald Trump's tumultuous first few months in office. But try as they might, Democrats have failed to win any of the special elections against Republicans since Trump moved into the White House.
John Curtis
The outgoing mayor of Provo officially threw his hat into the congressional race on May 25, shortly after Chaffetz announced he was resigning.
He'll have to defeat GOP nominee Herrod in an August Republican primary to be able to run against Democratic nominee Allen in November.
Curtis' party allegiances have raised questions about him. He considers himself a conservative Republican even though he once was a registered Democrat and has stated publicly he did not vote for Trump.
"I've been asked to run in all three parties," Curtis told reporters in May, according to the Daily Herald. "In my heart, I'm a Republican."
Curtis has received high poll ratings as mayor, with 84% of Provo residents rating their service for tax dollars as good or excellent, according to the Daily Herald.
Tanner Ainge
The son of Boston Celtics team president Danny Ainge made headlines on Wednesday by tweeting to Utah Jazz star Gordon Hayward in an apparent attempt to keep Hayward from leaving the team to play for Ainge's dad in Boston.
Utah Republican insiders say Ainge has enough money to spend a couple million dollars on advertising between now and August, making him a formidable candidate even though he didn't win his party's support earlier this month, according to Utah Policy.
Ainge spent more than six years working in investing before starting his own practice in 2016, according to his profile on LinkedIn. He also has multiple degrees, including a Juris Doctorate from Northwestern University.