Bronx-Lebanon Hospital Shooting: Here's what to know about confirmed gunman Henry Michael Bello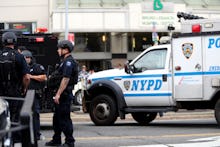 On Friday afternoon, a man identified by media reports as Henry Michael Bello opened fire in New York City's Bronx-Lebanon Hospital. Bello reportedly died of suicide after killing one person and injuring six others.
Here is what we know so far about Bello.
Bello was once a staff member at Bronx-Lebanon.
According to law enforcement and the hospital's listings, Bello worked in the family medicine unit at Bronx-Lebanon. Bello was 45 years old, according to NBC.
Bello wore his doctor's attire to enter the hospital.
Bello was wearing a white lab coat and carried his ID at the time of the shooting, CNN reported. According to police and witnesses on the scene, Bello carried a rifle under his lab coat.
Bello died of a self-inflicted wound.
Bello was found dead of a self-inflicted gunshot wound after shooting victims on both the 16th and 17th floors, according to police. Officials additionally told CNN that a woman who had been shot and killed was found near Bello's body.
Police are investigating the crime as "workplace violence."
Bello has no known disciplinary history with the state's licensing website, according to NBC. Additionally, the preliminary investigation found that Bello resigned from Bronx-Lebanon Hospital in 2015 in lieu of termination. According to a tweet sent by the FBI, the event was not terror-related.
Instead, New York police are investigating the matter as a case of workplace violence.