Defense Secretary Jim Mattis allows 6-month delay for transgender enlistments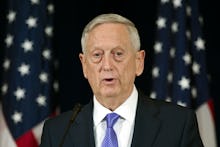 The United States military will have another six months before it begins allowing transgender individuals to enlist, the Associated Press reported.
Dana White, Pentagon spokeswoman, told the Associated Press that Defense Secretary Jim Mattis made the decision Friday.
In 2016, then-Secretary of Defense Ash Carter lifted a ban on transgender people serving in the military, the New York Times reported. In that decision the army was given until July 1 of this year to begin enlisting transgender recruits.
As Mic previously reported, the Army and Air Force had previously requested a two-year delay of that deadline, but eventually agreed on a request for a six-month delay.
Mattis sent a memo on the decision stating, "We will use this additional time to evaluate more carefully the impact of such accessions on readiness and lethality."
Transgender military personnel spoke with NBC and expressed their concerns over the delay.
"We're trying to up our manning at each branch of the [Department of Defense], and they're denying people who are able to serve," Air Force Staff Sergeant Logan Ireland said. "It blows my mind that they are denying people this basic right to serve their country."
Laila Villanueva, Ireland's wife and a one-time corporal in the U.S. Army, additionally shared her views on both the ban and delay, telling NBC, "My genitals do not do the job or dictate how I perform. I know a lot of women who can do a better job than some infantrymen, and I know men who can be better nurses." She added, "A job has no gender — as long as you have my back when we're in battle."